Breckenridge Ski, Snowboard & Summer Holidays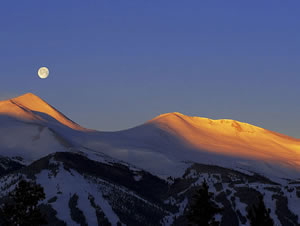 Dating back 130 years to the times of the Gold Rush, Breckenridge has retained its charm and combines charm and character with a fun and friendly atmosphere.
In US terms, Breckenridge the town and nearby Frisco, about 9 miles (14km) down the road, count as historical artefacts of Stonehenge-style significance, thanks to their mining heritage.
Ski holidays in Breckenridge:
Then there is the mountain, which is at the forefront of the US snowboarding scene and has one of the best parks (one of five!) in the world to satisfy every level of skier, and world-class park action if any of your group fancies themselves a freestyle hero.
This, and the fact that it is generally cheaper than, say, nearby Vail, is a winning combination that has made it one of America's most popular resorts. It attracts a regular clientele of local families, loyal returnees and snowboard ski fanatics attracted by Breck's strong showing in the international media.
Summer holidays in Breckenridge:
Breckenridge is a lively summer destination - with a good and varied programme of events and activities.
Winter activities include:
cross country skiing, skiing and snowboarding, snow mobiles, snow shoe walks.

Summer activities include:
walking, superb scenery, mountain biking, golf, rafting