Chalet - can be booked by the room
Bed & Breakfast, Self Catered or Catered basis
8 bedrooms, sleeps 1/16
Usually Saturday to Saturday stays, but flexible
2 minutes to lift by foot
Available for summer and winter
wifi
parking
hot tub/jacuzzi
credit cards accepted
Outdoor hot tub
Chalet Kimberley
Ski Powder Pigs is a small ski chalet company owned and run by Kim and Graeme Trevallion.
Chalet Kimberley is eight years old and built in the Savoyard style.
It is a stand alone chalet with great facilities.
It is at the end of the Le Bettaix near the new 4 man hi-speed chairlift which takes you up and into Les Menuires - the starting point to the whole of this fantastic ski area, the Three Valleys, a vast domain of exploration and adventure! In the summer there are ample alpine activities for adults and children alike whether you are looking for a totally peaceful and relaxing holiday to an action packed holiday in the mountains, this area totally delivers.
Accommodation:
Ground floor:
Ski and boot room with boot dryers. Large area to store bikes and summer equipment
Staff Accommodations.
A twin en-suite.
A double en-suite.
First floor:
Open plan living room/dining room with a stunning central log fireplace.
Kitchen
2 double en-suites.
Top floor:
1 twin en-suite.
1 Suite (1 standard twin and 1 small twin room (1.8 m head height in this room) - these rooms share a bathroom - ideal for a family or group of friends.
For the summer we offer bed and breakfast or fully catered. Just give us a call to chat about what you would prefer.
Entertainment:
Flatscreen TV with Freeview.
DVD Player.
Selection of Games.
Selection of books to accommodate every reader.
I-Pod Docker/Speakers.
Nintendo Wii
Wifi subject to availability.
Parking outside the chalet for 2 car and free parking nearby. Outdoor Hot Tub.
Facilities:
barbecue, bicycles for hire, boot dryers, games console, hot tub (outdoor), iPod docking station, open fireplace, private parking (open), wifi/internet access
Cuisine:
At Ski Powder Pigs we pride ourselves on producing good wholesome homecooked food which is locally sourced using great ingredients. In the summer if you are on a fully catered board option we can arrange some BBQ's on the balcony some evenings to get the most out of the longer summer days. Alternatively, if you are on a bed and breakfast board option you can take your breakfast Al Fresco !
Services:
Daily shuttle: During the winter season for ski schoolers who book ski school through us we will provide a minibus run at 8.30 a.m. each morning to Les Menuires and a pick up at 4.30 p.m. from Les Menuires (if required).
Catering: 7 Breakkies, 7 afternoon teas (in the winter season) 6 dinners on a fully catered board option during the Winter 6 dinners in the summer on a catered board option (including BBQ's some evenings during the summer season).
There is an option to have a dinner on the chalet staff night off at €20 per head two course with unlimited wine so you don't have to go out to eat. (Enquiry on arrival).
Cocktails: During the winter season we will serve a cocktail (on 6 afternoons) for those who wish to sample these shaken or stirred delights.
Resort & location information:
click +/- to maximise/minimise
Resort name: Les Menuires - Le Bettaix
Ski area: 3 Vallées
Country: France
Amenities: bars and restaurants, childcare, cross country skiing, skiing/snowboarding, sledging pistes, snowshoe walking
tel:

France - 0033(0)4 79 09 85 13
mob:

France - 0033(0)6 33 44 06 32
Advertiser with
Chalets Direct
since: September 2010
Guest reviews:
Review sent by email/letter by Grace Thomas
"Dear Both


Home safely.

Miles can't stop talking about the time we all had in France! Imagining the great cocktails you're about to serve up and the super snow your next visitors are having.

We could not have had a better week if we'd tried.

Hope you all have a prosperous New Year.

Love

Grace and Miles" 15 Oct 13
Review sent by email/letter by Daniel Healy and Friends (1st Visit 2013)
"Hi guys,

Thanks for a brill week. Hope to see you again soon. Mark x

Best chalet hosts ever! Thanks for everything. Colin x

Thank you for a brilliant week. Enjoyed every minute of my stay here. Thanks for all the great food and for all the ideas for vegetarian meals! Hopefully see you again next year!

Charlene xx

Kim and Graeme,

Thanks for a great stay in the Alps. Hopefully we will see you again. Daniel xx" 21 May 13
Review sent by email/letter by Matthews Family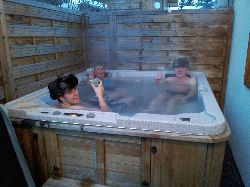 "Dear Kim and Graeme,

Just a note to say a huge thank you from all of us for making our stay with you so fantastic!

We really enjoyed ourselves and your hospitality was second to none.

We're hoping to come back and visit you with more of our family.

Love of Love.

Sian, Tony, Kris, Anna and Uncle Plod!"
21 May 13
Review sent by email/letter by Felicity Clarke and Friends/Family
"Graham and Kim,

Thank you for being such good hosts. Rod and Anne

Georgeous Cakes! Elle

Thanks very much for a wonderful holiday! Bo

Thanks very much for a great holiday. All the best. Ed

Thanks for a great holiay an fantastic cooking. Kipp

Lovely hosts! Delicious food!. Many thanks! Felicity

Thanks for a great holiday. The food was Great. Zak" 21 May 13
Review sent by email/letter by Laura Middleton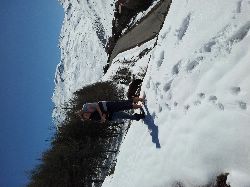 "Dear Kim et Graeme.

Just a little note to say 'Thank You' so much for this week. We've had a great time and it's been great spending time with you.

Can't wait to come to Chalet Kimberley again.

Love Laura, Josh and Digby xxx"
21 May 13