Review written in the guestbook by Laura Peacock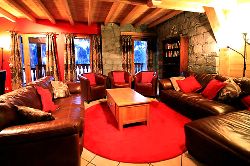 Stayed here for Xmas, Jess and Dave are great, best chalet food I've ever had! Jess is a great chef and we ate like kings. The chalet is great it has a hot tub on the balcony overlooking the mountains. Superb holiday.
Chalet Chardons 31 Dec 14
Review written in the guestbook by Wales Family
Thanks so much for a great holiday, staff are great and so is the chalet. Our family all loved it. Had a great curry night and the confit of duck was better than the restaurants! Jess's catering is second to none and Dave is a great knowledgeable host. The staff at chardons are really attentive, they really do care about your holiday I can't recommend them more.
Chalet Chardons 31 Dec 14