Bad Gastein Ski, Snowboard & Summer Holidays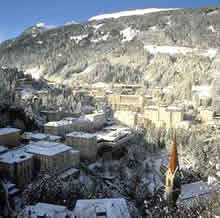 Located at the head of the Gastein valley, which also includes Dorfgastein and Bad Hofgastein.
Bad Gastein lies at the end of the Gasteinertal, a long valley carved between the peaks of Austria's Tauern range, all located within the Hohe Tauern National Park.
The town dates dates back over 600 years to when it was predominantly a mining town, extracting gold ore from the surrounding mountains.
Today a waterfall spurts over the jagged cliffs in the middle of town surrounded by beautiful architecture constructed during the Belle Epoque.  The sight of these splendid buildings perched on towering precipices makes Bad Gastein a marvel in the mountains.
The visual splendor of Bad Gastein isn't the only magic in the area.  Bad Gastein is perhaps best known for its seventeen natural springs—both outdoor and indoor—infused with radon gas from deep below the surface.  Five million litres of bubbling water flows to the surface, inundating the baths with their healing properties and temperatures between 45 and 51 degrees Celsius (113 to 123 degrees Fahrenheit). The baths are cure-alls for everything from rheumatism to arthritis to back problems and a hard day on the slopes. These therapeutic baths once drew large crowds of Europe's aristocracy and the region became known as a health retreat, eventually leading to the tourist resort that it is today.
Ski holidays in Bad Gastein:
The Gasteinertal is comprised of five ski areas spread out between the three towns of Dorfgastein—the farming town, Bad Hofgastein—the market town, and Bad Gastein—the resort town creating 250 kilometers (155 miles) of skiable area that vies with the more known resorts like Kitzbühel and Innsbruck for top ranking amongst winter enthusiasts.
The little known area is perfect for skiers who want to get away from the crowds of major resorts. Bad Gastein and Bad Hofgastein are linked areas with three mountains between them offering everything from gentle nursery slopes for beginners, and long untouched runs both above the tree line and through the area's conifers for powder hounds. Dorfgastein's mountain, which lies at a lower altitude, can be easily accessed by inexpensive taxis or by buses or trains, which are free for ski pass holders. Sportgastein, the highest mountain in the area is also reachable by bus, train or taxi, and offers some of the best hors-piste skiing in Austria.
Winter activities include:
ice skating, tobogganing, sleigh rides, thermal baths and spas, ice climbing, fitness and wellness centres, indoor horse riding

Summer activities include:
climbing, mountain biking, walking, parapenting, rafting, tennis, fitness centre, swimming pool.