Courchevel Ski, Snowboard & Summer Holidays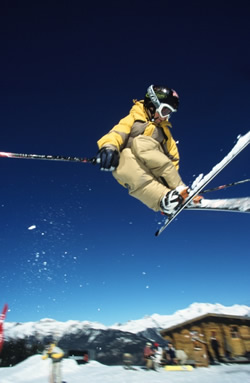 Courchevel Tourisme - Snowpark Courchevel - Jérome Kélagopian
Courchevel boasts some of the best facilities for both winter and summer stays.
Courchevel is not one resort village but four distinctly separate ones. They were renamed in 2011 but are still commonly known by their old names – Courchevel 1850, Courchevel 1650, Courchevel 1550 and Courchevel 1300. They are linked by lifts, pistes and a road which winds its way up from Courchevel Le Praz (1300), through Courchevel Moriond (1650) to the highest resort which is now simply known as Courchevel (1850), bypassing Courchevel Village (1550) on the way.
Ski holidays in Courchevel:
Courchevel has long been one of the most popular starting points from which to explore the Three Valleys. The various villages have different characters, from traditional and rustic Les Praz at 1300m, to the cosmopolitan and chic Courchevel 1850. The ski area has something for everyone - and the level of services available make it possibly one of the best ski holiday destinations.
Summer holidays in Courchevel:
Although Courchevel may not be an obvious choice for a summer holiday, the area has plenty of things to do for all the family.
Winter activities include:
hang gliding, parapenting, bowling, go-karting on ice, tobogganing, ice climbing, heli-skiing, snow mobiles, swimming pool, fitness centre, squash.

Summer activities include:
swimming pool, fitness centre, climbing, mountain biking, walking, golf