Davos Ski, Snowboard & Summer Holidays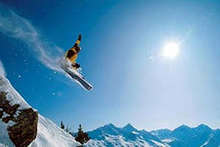 Situated just 13km along the valley from Klosters, Davos is one of the original and most famous wintersports capitals in Europe.
It became an established health resort in 1860 and its reputation as a sports center dates from 1930. Today Davos is a city way up in the mountains at 1560m that is popular all year round.
It is a bustling town, famous for its fresh mountain air, its consistently excellent snow cover and one of the most extensive ski areas in Switzerland.
The town extends for almost 2.5 miles and is divided into Davos-Dorf and Davos-Platz. It is located in Graubunden region in eastern Switzerland on the Landwasser river. It is easy accessable Zurich and Chur or via Glacier Express from Zermatt or from St. Moritz.
Davos offers many sporting and leisure activities as well as fine dining, shopping and entertainment. Huge indoor and outdoor skating rinks, a sports center, two sled runs, 143 miles of skiing slopes in winter and 280 miles of picturesque walking path and mountain bike trails in summer.
Ski holidays in Davos:
Davos has been attracting skiers for generations and recently gained fame as a hip snowboarding destination.
The skiing area and its 45 ski lifts constitute one of Switzerland's largest and most remarkable skiing resorts with good snow cover between December and April.
The ski area is extensive and has something for everyone - good off piste, long and interesting intermediate runs and the chance to visit a different area everyday.
For visitors with a valid guest card there is free travel on the Rhaetian Railway between Davos-Klosters (2nd classe) as well as on the local buses in both resorts.
Summer holidays in Davos:
The hiking area of the Klosters-Davos region and the Prättigau, with more than 700 km (437.5 miles) of hiking trails, means you can enjoy fantastic alpine views and scenery. Klosters is particularly attractive for bikers. There are over 230 km (93.75 miles) of separate routes of varying degrees of difficulty in the countryside of Klosters-Davos and Prättigau. And if that is not enough, there are other challenges in the Prättigau, or in the Davos area.
Hotels are also well equipped with excellent facilities to relax and pamper you.
Winter activities include:
largest natural ice rink in Europe, indoor tennis courts, swimming pool, squash courts, riding school, hang gliding, curling, sports centre.

Summer activities include:
mountain biking, walking, climbing, sports and fitness centre.