Fernie BC Ski, Snowboard & Summer Holidays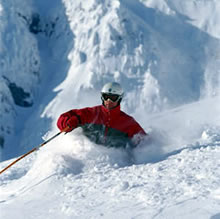 Located in the south-east corner of the Rockies of British Columbia, Fernie is gradually becoming more and more well-known by an international audience.
Fernie Alpine Resort is approximately 60 km from the Alberta and U.S. borders, situated 5km from Fernie town. The road to Fernie leads you through some of the most spectacular mountain scenery in the world.
Keep an eye out for Big Horn Sheep, Elk, Moose and Deer as you venture into the heartland of the Canadian Rocky Mountains.
Ski holidays in Fernie BC:
Fernie has superb natural snow, and is generally a good compromise between the extremes of temperature found in other Canadian resorts. There is a wide range of slopes and the resort has an excellent snow record - with an average of around 350 inches a year.
Fernie Alpine Resort is set above the town of Fernie, and has seen fairly extensive development in recent years, with improvements in accommodation, facilities and lifts.
Summer holidays in Fernie BC:
Fernie has lots to offer for summer holidays in the mountains. There are activities for all the family, all set amongst superb natural beauty.
Winter activities include:
cross country skiing, skiing and snowboarding, snow mobiles, snow shoe safaris, torchlight descents, horse-drawn sleigh ride.

Summer activities include:
walking, superb scenery, mountain biking, golf, rafting