Grimentz Ski, Snowboard & Summer Holidays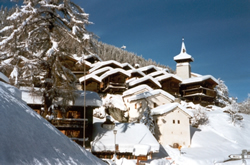 Located in the heart of the Valais region of Switzerland, Grimentz/St-Jean (1572 m) offers an escape into nature at the gateway to some of Switzerland's most famous 4000 metre mountains, where the pure air of the Alps makes your blood tingle.
Ski holidays in Grimentz:
In winter, our pristine white peaks offer you 50km of perfectly prepared ski slopes beneath the blue sky and sunshine… and with the same ticket, access to all the ski resorts in the Val d' Anniviers (Zinal, St-Luc/Chandolin, Vercorin), covering more than 220km. Grimentz/St-Jean also possesses all the necessary infrastructure to make your stay an exciting and unforgettable one. Judge for yourself: Via Ferrata, 100km of hiking paths, 100km of mountain bike trails, tennis, minigolf, swimming pool, games area, natural ice rink, climbing wall, snow garden, etc….
Summer holidays in Grimentz:
In summer, you will be charmed by its unspoilt natural splendour, surprised by the sublime old sun-darkened granaries, dazzled by the beauty of the balconies awash with red geraniums, and by the sparkling panorama of the Moiry Glacier.
Winter activities include:
skiing, snowboarding, telemarking, sledging, snowtubing, winter hiking, cross country skiing

Summer activities include:
superb scenery, hiking trails, mountain biking, golf