Grindelwald Ski, Snowboard & Summer Holidays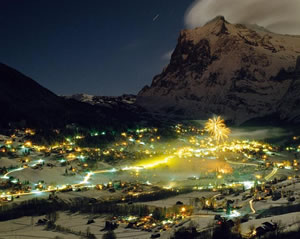 The Eiger village of Grindelwald in the Bernese Oberland is located in a high valley, surrounded by a mountainscape composed of the Eiger north face and the Wetterhorn. This mountainscape and the numerous lookout points and activities make Grindelwald one of the most popular and cosmopolitan holiday destinations in Switzerland, and the largest ski resort in the Jungfrau region.
Thanks to its magnificent vista and the glacier which once reached right into the basin, Grindelwald attracted its first guests – primarily the English – from the end of the 18th century onwards. The actual breakthrough of Alpinism occurred in the mid 19th century, and local mountain guides climbed the peaks of the region with English tourists. The first ascent of the Eiger, the most difficult of Alpine mountains took place in 1858 (the north face only in 1938).

Road and railway construction made Grindelwald much more accessible towards the end of the 19th century, which in turn also heralded the onset of winter tourism. The first cableway in the Alps was built here in 1908 on the Wetterhorn. And in 1912, a railway reached the Jungfraujoch via Kleine Scheidegg; today the "Top of Europe" still remains Europe's highest railway station and a world-renowned excursion destination.
Ski holidays in Grindelwald:
The two ski regions of First and Kleine Scheidegg – Männlichen – Wengen offer 160 kilometres of pistes with around 30 lifts reaching up to an altitude of 2500 m. The Schilthorn near Mürren, also part of the Jungfrau region ski arena, reaches 2971 metres. The most spectacular piste of the region is without doubt the Lauberhorn piste near Wengen.
There are 80 kilometres of winter walking trails with views across seven four-thousand-metre peaks and majestic glaciers, as well as 60 km of toboggan runs, including, at 15 km, one of the longest toboggan runs in the Alps from the Faulhorn into the valley. Naturally Grindelwald also has many further winter sports on offer.
Summer holidays in Grindelwald:
There are 300 km of walking trails around Grindelwald. The high-altitude walk from Grindelwald-First along the Bachalpsee to the Faulhorn mountain hotel and then on to the Schynige Platte ranks among the most beautiful hikes of the region. An easy walk with fantastic views of the three, world-famous mountains of the Eiger, Mönch and Jungfrau leads from the Männlichen up onto the Kleine Scheidegg.
Winter activities include:
open air ice rink, ice karting, curling, cross-country skiing, winter walking trails, indoor swimming pool.

Summer activities include:
climbing, hiking, biking, tennis, mini-golf, heated open air swimming pool, paragliding, whitewater sports.