Klosters Ski, Snowboard & Summer Holidays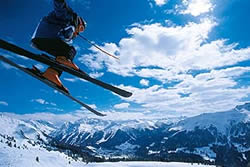 Situated just 13km along the valley from Davos, Klosters provides a more traditional alpine ambiance than its larger neighbour, whilst sharing the same ski areas.
Klosters is also the resort of choice for some members of the British royal family, although it is not a highly exclusive resorts, and provides a range of accommodation to suit most budgets.
It is a well-maintained scenic village in the midst of a fascinating mountain landscape, with a wide range of sports, leisure and relaxation facilities and many possibilities for excursions by Rhaetian Railway.
Ski holidays in Klosters:
The Davos-Klosters region has long been an extremely popular destination for skiing, carving and snowboard fans from all over the world. The most modern transport systems gives access to 6 extensive winter sports areas with a total of over 300 km (194 miles) of slopes.

For visitors with a valid guest card there is free travel on the Rhaetian Railway between Davos-Klosters (2nd classe) as well as on the local buses in both resorts.
Summer holidays in Klosters:
The hiking area of the Klosters-Davos region and the Prättigau, with more than 700 km (437.5 miles) of hiking trails, means you can enjoy fantastic alpine views and scenery. Klosters is particularly attractive for bikers. There are over 230 km (93.75 miles) of separate routes of varying degrees of difficulty in the countryside of Klosters-Davos and Prättigau. And if that is not enough, there are other challenges in the Prättigau, or in the Davos area.
Hotels are also well equipped with excellent facilities to relax and pamper you.
Winter activities include:
ice skating, tobogganing, sleigh rides, fitness and wellness centres, cross country skiing.

Summer activities include:
superb scenery, hiking trails, climbing, mountain biking