Mayrhofen Ski, Snowboard & Summer Holidays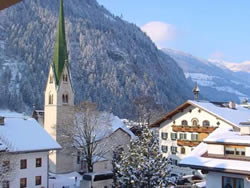 Situated in a wide valley, Mayrhofen is one of the most beautifully situated resorts in Austria and has become a popular resort for both winter and summer stays.
The village, about a 15-minute walk across, and is as typically Austrian as you could get. The church steeple towers over wooden façades and balconies on whitewashed mountain houses. Konditorei display tempting pastries; the latest Tyrolean fashions—still harking back to tradition—fill dress shop windows, bakeries emit mouthwatering smells of fresh bread, dogs chase each other, restaurant candles glisten through hazy windows and hearty laughter echoes from gasthausen.
Ski holidays in Mayrhofen:
The majority of slopes are above the tree line. The area most easily accessed from the town are the Penken-Horberg area, reached by gondolas. There are free buses which link the different areas and will also take you to the Hintertux glacier - make sure your lift pass covers this.
Mayrhofen's other skiing area, the Ahorn, is well suited for families. It also offers ideal practice slopes for beginners and children. The 5.5 km long valley descent (with snow machines) will appeal to very good skiers. A special feature is the Ahorn "Kinderland", a large children's playground at an altitude of 2000 metres - somewhere for children to really let off steam in the snow.
Summer holidays in Mayrhofen:
In summer Mayrhofen offers fabulous views, breathtaking scenery and a perfect alpine arena for getting away from it all.
Winter activities include:
ice skating, tobogganing, sleigh rides, snow shoe walks, skiddoo driving, fitness centre.

Summer activities include:
mountaineering, climbing, hiking, walking, mountain biking, fishing, parapenting