Morgins Ski, Snowboard & Summer Holidays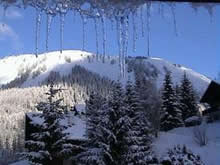 Part of the massive Portes du Soleil, Morgins is a traditional Swiss Chocolate box of a village nestled in a tight valley above the Rhone on the south east side of Lake Geneva.
It has a charming atmosphere and caters for all with a good range of restaurants, bars and even a nightclub.
Ski holidays in Morgins:
Although only 2 lifts leave the village (one on either side of the valley), Morgins secret is that it is linked to the massive Portes du Soleil ski area, 12 resorts and two countries which can never be skied out in just one holiday.
The famous parts of the Portes du Soleil such as Les Crosets, Chatel & Avoriaz , are easy to reach. But stay around Morgins and you can discover the skiing around the Follieuse area.
One lift, north facing, great snow and lots of powder in the right weather! It holds its snow till late despite its altitude. There are quiet characteristic pubs and a few good restaurants so Morgins is a winner for those seeking to escape the crowds and still explore a big area
Summer holidays in Morgins:
Morgins plays host to a massive choice of summer acitvities, including walking and mountain biking. Morgins sports centre has indoor and outdoor courts and a resident tennis professional. Swimming pool situated at the edge of the forest in idyllic surroundings. Water polo and table tennis competitions are organised during the summer holidays.
There is also the opportunity to climb, hang glide, try via ferrata or horse riding, plus the chance of white water rafting.
Winter activities include:
skiing is the centre of activities, cross country skiing, swimming and ice-skating

Summer activities include:
superb scenery, hiking trails, via ferrata, climbing, mountain biking, white water rafting, horse riding