Pamporovo Ski, Snowboard & Summer Holidays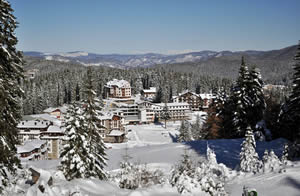 Picture: Petyo Atanasov
Bulgaria lies in the heart of the Balkan Peninsula in South Eastern Europe. For tourists it has uncrowded ski resorts and beautiful mountains. Quiet rural and fertile Bulgaria is as big as England but only has 8 million inhabitants.
Ski holidays in Pamporovo:
Pamporovo is the southern most ski resort in Europe and boasts an impressive snow record due to its exclusive climate featuring a soft winter with about 120 sunny days during the ski season.
The significant influence of The Aegean Sea appears here and the skiing season starts from mid - December to mid - April. The average air temperature is - 3 ° C.
The gentle profile of the mountain with its rounded slopes and summits makes Pamporovo particularly suitable for beginners. But there are also difficult ski runs like the Giant Slalom run which is an excellent exercise for every skiing expert. The main hotels are in a purpose-built village in an atractively wooded setting slightly away from the slopes - there is a shuttle bus. There is a handful of lively bars and discos and a few restaurants.
Winter activities include:
cross country skiing, skiing and snowboarding, historic centre with churches, monuments, old picturesque town

Summer activities include:
climbing, mountain biking, walking, parapenting, golf.