Guest reviews:
Chilled Mountain, the perfect ski retreat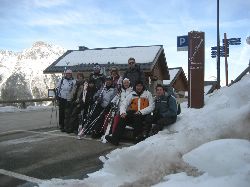 I have just returned from a fantastic week at Chilled Mountain. This chalet in the quiet mountain village of Oz en Oisans is the perfect retreat after a hard days skiing.

The chalet is beautifully appointed with five bedrooms, lots of bathrooms and complimented by a roaring log fire. We stayed as a group of ten adults and chalet hosts Dave and Liz could not have been more friendly or accomodating. The food was absolutely delicious and washed down with a few choice wines.

The village is pedestrianised and has its own beginner slope and you have a choice of bubble lifts to wisk you up to a vast ski domaine with easy greens and the more demanding stuff if you are looking for it.

If you are looking for great accomodation with excellent food in just the perfect location....look no further than Chilled Mountain. I can't recommend it too highly, they exceeded all our expectations.

A very satisfied customer,
Malcolm 22 Jan 09
Best chalet in the area
For the location of a chalet this is by far the best I've stayed in. As a regular visitor to the Alpe d'huez area; mainly because of my interest in skiing and cycling, I've stayed in a few places. This chalet is simply the most relaxing place to stay - literally walking distance to one of the main lifts (I loathe lugging my skis around) and a balcony with views over the lake below like no other in Oz. Inside the decor is sumptuous and warm and each room has plenty of space - unlike some chalets I've stayed in where you're simply living on top of each other.

I very pleasant experience all round.


Full marks!!



sponaa 23 Jan 08
Breathtaking views and comfort
As a ski resort novice Chilled Mountain Chalets really set the positive tone for the rest of my break. They are simply and freshly decorated with plenty of bathrooms (very important!) and space in the communal area and all rooms can be made up as twins or comfortable doubles. The view from the lounge / dining area (where there's also a spacious balcony) and some of the bedrooms is breathtaking. The catering is lush and Claire and James were extremely friendly and knowledgeable about the facilities on offer.

An added bonus is their proximity to the village amenities and ski lifts - most welcome when you're not used to walking in ski boots!

Sarah 21 Jan 08