Guest reviews:
Fantastic!
We stayed with Justin and Anne-Marie just over two weeks ago and it was an absolutely great experience.

The chalet is very comfortable and relaxing after a long days skiing. Anne-Marie's cooking was fantastic, whether it was cakes in the afternoon or a 3 course dinner in the evening.

With the chalet being is just outside Morzine (20mins), Justin provides a private shuttle service to any of the local resorts (morzine, Les gets, Avoriaz, Ardent, Chatlet) which means you can always get the best skiing in whatever conditions. Having been a guide/instructor in the are Justin knows the area incredibly week and offers great advice. At the of a long day (or half-day!) Justin collects, which means no walking/carrying skis.

The chalet is well equipped for families with pool/table tennis, a large dvd collection, and separate living rooms to relax in. The selection of cats and the dog named Toast are also a welcome distraction!

Thank you for such a lovely week. Sam_Hawk 13 Feb 22
Lovely chalet
We stayed with Justin towards the end of February and had an amazing time. The food was absolutely delicious and Justin went out his way to make sure we had an enjoyable trip.

This was my first experience of staying in a chalet not located within a specific resort, and it definitely has its benefits - you're able to really make the most of the breadth of skiing available by starting at different places each day.

I would really recommend this chalet, really lovely hosts and an incredible experience, thank you! ameliam 13 Feb 22
Arblay La Reblais Morzine
We spent 5 nights with Justin & Anne-Marie earlier this month and had a great time.

Despite being used to staying at ski-in/ski-out resorts, we went with them because of the included transport option (both to/from Geneva airport and ski areas each day) and weren't disappointed in our decision as we were dropped off at and collected from very close to the slopes.

Justin's recommendations of where the best skiing would be given the weather conditions and Anne-Marie's cooking enhanced our holiday experience. Nothing was ever too much trouble including drinks being brought out to the hot tub after a long day skiing!

The chalet is spacious and well-equipped for all ages and has two separate living areas. However, the other guests in the Chalet were great company and so the evenings were mainly spent around the dinner table enjoying the food and wine.

I would certainly recommend this Chalet and its hosts! dsl0202 16 Mar 20
Top notch hosting and feeding!
My friend and I had the pleasure of staying with Justin & Anne-Marie for 6 nights last month, having posted in the Solutions Room at less than one week's notice.

Despite being used to staying in resorts with major operators (Crystal, Neilson, etc), we went with them because of the included transport option (both to / from Geneva airport and ski areas each day), previous reviews and the very keen price (it was a surprise how many others didn't include this despite my post saying this was the most important criteria!) - and we weren't in the least bit disappointed in our decision.

Pick-up at Geneva was seamless and slightly to my surprise, I really enjoyed not being based in one ski area and being able to get dropped off at different places during our stay - especially starting my final day in Chatel and ending it by the Prodains lift in Avoriaz.

Anne-Marie's cooking was excellent and my gluten-free friend was equally well catered for at a few days' notice.

We were lucky enough to have snow one evening which really made the most of the view from the hot-tub, but even without it, it was a wonderful way to unwind after a long day on the slopes.

The chalet is well-equipped for younger and older guests and with two separate living areas, there's enough room to spread out if the generations desire or the situation requires it.

Luckily for us, the other guests sharing the property with us for the week were great company, so the evenings were mainly spent around the dining table.

I would happily and heartily recommend it for others. Thanks again for a wonderful week! jebroni3_16 08 Apr 19
Fantastic location! Excellent hosting
Our party of eight have just returned from a fantastic 6 day break at beautiful La Reblais.
From our smooth pick up by host Justin at Geneva airport to our return drop off, every aspect of our holiday has been faultless.

The chalet is set up high, giving the most spectacular views in the morning and the most amazing night time hot tub location, no neighbours, no noise just a stunning view.
NY Eve at midnight in the hot tub was spectacular!

Justin is a fantastic host and cheerily drops his guests at whatever destination they choose to ski from on any given day but knowing the area as he does his recommendations are invaluable ( especially when the snow conditions are not perfect) in getting the most from your holiday.

The service La Reblais offer really is FULLY CATERED with a plus +++++.
From pre buying ski passes to save you queuing, to driving you to the ski hire shop to collect your equipment, even accommodating your request for a later pick up after a little apres ski


Having initially had reservations about being a little out of town, the drop off/pick up offered so made this such a good option.
No trudging around with skis, waiting for buses, just a warm minibus to transfer you back to
the cozy chalet where freshly brewed coffee & home made cake is waiting for you



Justin's wife, Anne-Marie is a fantastic cook, providing you with a four course ( if you can manage it!) dinner of absolutely excellent quality using home grown/ local produce.
Any particular food requests are not a problem and happily accommodated.

Our holiday in La Reblais far exceeded our expectations and we would like to thank Justin & Anne-Marie for being such fantastic hosts.





Eugeer 02 Jan 19
Fantastic Weekend Break
We have just returned from our 3rd stay with Justin and Anne-Marie. It started off just the 2 of us a few years ago and we are slowly bringing more of our friends with us as we always have such a great time!

This year there were 5 of us for a last minute long weekend! Justin and Anne-Marie's place is beautiful and they are great hosts - so accommodating and flexible. We were arriving on different flights and different transfers and Justin arranged all of this for us so it was hassle free, we just had to turn up! Everyday we could leave and return from the slopes at times that suited us and would come back to find a cuppa and a lovely home made cake waiting for us!! Justin would drop us at our preferred lift so we could chose a different area to ski every day and Justin was great for advising where the bst snow would be each day depending on the weather. As always the accommodation is fab, lovely log fire and very homely! The hot tub is always a winner after a hard day on the slopes and the views are out of this world. Of particular enjoyment was the cheese fondant and Haig Whiskey (thank goodness for the fresh mountain air on Sunday morning!).

We would highly recommend this property to anyone! Lovely family to stay with and always make you feel more than welcome! We will be back again next year for sure!


echorley 15 Mar 17
Perfect Ski Home at Haigski
Justin and Anne-Marie cared for eight of us (we parents and our three grown up offspring and their partners) for a wonderful, unforgettable week in January 2017. We all loved their beautiful chalet, with its traditional charm and all the home comforts you could wish for. We loved the comfortable lounge with its real fire, lit for us each day when we came home. We loved the bedrooms, with the beautiful views and balconies, the bathrooms (one for each couple), the games room (big hit!), the boot room - great for leaving all your ski gear when you get back from the slopes, the hot tub - a surreal experience on a snowy night but most of all, the genuine hospitality that Justin and Anne-Marie extended to us all. We have a celiac in our family and she was expertly catered for. Breakfast, afternoon tea and supper were sumptuous. Real home cooking - and we looked forward to every evening. Nothing seemed to0 much trouble to this lovely couple. From picking us up at Geneva airport, picking up part of our party the following day, taking us and picking us up from the slopes at times to suit us, arranging a meal at a fabulous restaurant in Morzine that would cope with our celiac daughter with a taxi to get us all home, ice-packs for our bruises, wonderful food and wine, and all the comforts of home - what more could any family want!
Karen MacKenzie 17 Jan 17
Review sent by email/letter by Karen MacKenzie
Dear Justin and Anne- Marie

We would all like to thank you for the wonderful holiday we have all enjoyed. It exceeded our expectations immeasurably. Without exception, we would all come again to your beautiful chalet. It seemed to us that nothing we asked for was too much trouble and Anne-Marie's menus and cooking are now legendary in our family! And thank you so much for catering for our celiac daughter – we know it is not easy.

The chalet is so comfortable, so homely, warm and very relaxing. The views are outstanding and the hot-tub was a real treat!

Your attention to what we might need – from skis to lift- passes, transportation to the slopes and pick up to suit our timetable, picking up two of our party from Geneva on a different day – all made this the perfect holiday for us.

I am unsure if you publish reviews, or are on trip-adviser, and we would be more than happy to have our comments published.

Sadly our Australian contingent are now sitting on a plane at Heathrow to return to the other side of the world. We will miss them terribly - they have had such a wonderful time – and we have wonderful memories.

Wishing you and Anne-Marie and the girls the very best for 2017

Karen, Phil, Hannah, Greg, Jack, Stacey, Becka and Damon
Xxx Haig Ski 16 Jan 17
Review written in the guestbook by funinthesnow
Absolutely amazing
We have just returned from an amazing stay with the Haigs, everything was perfect especially the extremely high quality meals, Justin collected us from the airport on time and organised lift passes and ski hire to enable us maximum time on the snow, in fact due to this we managed to have our first turns on the snow within around 2 hours of landing at Geneva, the accomodation was beyond our expectations and we enjoyed every moment of it, the hot tub is amazing and really put a great end to a hard day of exploring the vast ski area, we will certainly be returning as soon as we can, thank you and see you again soon. Haig Ski 17 Mar 15
Great stay!!
Back recently from a great long weekend stay at Arblay La Reblais. My friends and I were a little worried about staying so far out of Morzine but in all honesty it couldn't have worked out any better. The accommodation was very comfortable and the food each night was fresh and tasty and with Justin providing a great door to door taxi service too and from the slopes (including a good few hours at Apres) it meant that we did even less trekking around with skis and boots on than we would of had we been in a central chalet.

The hot tub was a superb addition. Highly recommended. ianb783 18 Mar 14
Highly Recommended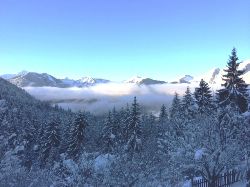 Just back from half term week having been superbly looked after by Justin and Anne-Marie. The accommodation was excellent; warm, comfortable and with superb views from the bedrooms (see photo), and the food was lovely, especially the cakes at afternoon tea. The hot tub in the snow was a real treat.

It was nice to be in a converted farmhouse as opposed to a standardised chalet and also to be away from the hustle of central Morzine - back to the lovely views again. With just a short minibus journey to various slopes, it meant we never had to carry our skis anywhere and Justin was entirely flexible as to when we wished to be picked up and in accommodating late changes in our plans (or when we were very late back due to poor reading of the piste map - apologies again!).

We would certainly recommend La Reblais.

The Clark and Rossall families
grahamrossall 24 Feb 14
Outstanding New Years Week !!!
We have just returned from spending New Years week as Justin and Anne-Marie's guests at their chalet Le Reblais. There were 9 of us, family and friends, the majority of which we're complete novices to winter holidays - not to mention skiing! Our holiday expectations were exceeded in every single way. The location is breath-taking, the accommodation is warm, friendly and catered for our varying needs and the catering was simply outstanding. The skiing at St Jean D'aulps was recommended to us by Justin and turned out to be exactly the right level for our mixed group, the conditions and facilities on the slopes meeting our needs perfectly. Last, but most certainly not least, the hot-tub....WOW !!! What a way to unwind and relax those tired muscles after a hard day on the slopes.

In one short week, we have all formed memories that will last a lifetime. We cannot recommend this chalet highly enough and will certainly return next year (if not before ). Sincere thanks to Justin, Anne-Marie and the family. Neil and Caroline. Neildyke 12 Jan 14
Fantastic holiday
Just spent a fantastic week at chalet la reblais. Thank you to Justin for great guiding and endless patience with the slightly slower one in our party! Thank you to Anne Marie for some delicious food and cakes. Plentiful as the previous review says! We look forward to the next time.
Great holiday 22 Feb 13
Perfection!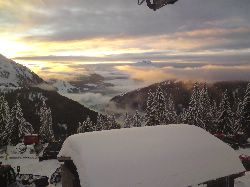 I'm sure part of it was the group of friends we went with, but a major factor in what was my best ever holiday was also the wonderful place we stayed. Justin & Anne-Marie host the most gorgeous catered chalet in one of the most beautiful locations I've ever seen. Anne-Marie's food is constantly sublime - most mouth-watering cakes ever tasted and consistently super-tasty and plentiful evening meals. The lounge/dining area is cosy and snug with a roaring log fireplace and the bedrooms are all lovely and warm as there seems to be no scrimping on heating bills as I've found in other winter accomodation. Bathrooms are clean and spacious enough to de-robe out of all the skiing gubbins. Justin's ski guiding made the experienced winter-sporters holidays. Thoughtful additions such as a birthday cake for one group member and minor furniture adjustments for the wheelchair user with us also helped bring the holiday ever closer to perfection. The hot tub was simply stunning - we only wish we'd managed to get back in time for a sunset dip! Transfers to/from Geneva in Justin's minibus were smooth, hassle-free and great value - as were the daily shuttles to/from the slopes. Assistance with equipment hire also removed some of the unknown quantities that usually niggle. Overall I think we've all said since getting home that we wish we were back there - and that we'd seriously look at going in Summer as well. Congratulations Justin & Anne-Marie - a holiday I'll always remember and look forward to re-living hopefully in the not-too-distant future!

zoesanders1 07 Feb 12