Guest reviews:
Review sent by email/letter by Emma Robinson
Thanks so much for an amazing skiing weekend, I haven't stopped telling people about it since and it was the perfect birthday treat. Everything you do at Chalet des Etoiles is spot on, it really is the most perfect weekend I can imagine. We all loved the chalet, the hot tub, the incredible food and your hospitality was a big part of making it so relaxing. Larry's help with skiing was very much needed and enjoyed as we just got more skiing in - given the lazy starts. And the ski area has just got so much going for it.
Alpine Chalet Weekends 07 May 14
Review sent by email/letter by Tracey Kirby
I just wanted to say a big thank you to you both, we all had the most fantastic holiday and we all felt very spoilt in every way, we shall defiantly be back....
Alpine Chalet Weekends 07 May 14
Review sent by email/letter by Emma Cotton
I know we all said our thank you's yesterday but I wanted to thank you again for your wonderful hospitality over the weekend. From arriving to departing I truly felt that everything had been perfect. Your home is truly beautiful and I as well as everyone else felt so at home with you both, the food was delicious and your company was great. The transfers to and from the airport were great too and Larry's ability to pick us up just at the right time was very much appreciated. Much more Vin Choud and the journeys back in the afternoon could have been rather raucous and unloading the ski's and us may have been messy.

Thank you once again, enjoy the rest of the season and we'll see you again in the future.

With very best regards and great memories.
Alpine Chalet Weekends 07 May 14
Review sent by email/letter by Jon Humpherson
Just a quick note to say thank you so much for such a lovely weekend, we all thoroughly enjoyed our holiday, in particular the wonderful hospitality and of course the fantastic food. You both made us all feel very welcome and ensured that our time with you guys was incredibly relaxing.
Alpine Chalet Weekends 07 May 14
Perfect ski break!
Chalet des Etoiles is perfect for a relaxing, stress free ski break. Everything is catered for including transfers, ski equipment delivered to the chalet and transfers to and from the slopes.Janet and Larry are the perfect hosts. They skied with us each morning which was very useful as we were new to the area and enabled us to experience a good variety of slopes in more than one resort. The food was excellent and the icing on the cake was the hot tub which helped us to relax after a hard day skiing!! I would thoroughly recommend Chalet des Etoiles as an ideal location for a perfect ski break! We are already planning to return next year! Christine, Carole, Andrea, Naomi, Margaret and Sarah - 4 Feb 2012
Christine Berry 04 Feb 12
Review sent by email/letter by Mr & Mrs K. Lyon
Amazing ski holiday

Chalet des Etoiles ticked all the boxes for our group of 9 friends, hot tub, log fire and lifts to the slopes( we don't like walking). We were made really welcome and the rooms were all beautiful especially the open plan living area ....so much to look at! The bedrooms have the comfiest beds ever. The chalet has views to die for, saw a hot air balloon floating down the valley one day and an eagle soaring another.
Our hosts skied with us in the morning leaving us to enjoy a leisurely lunch somewhere special. The local ski area is amazing, no queues. Make the most of Jan and Larry's local knowledge, they really know their way around. We came back after skiing to a roaring fire and scented candles , not to mention the most delicious cakes. Every night, dinner was a treat with plenty of incredibly good wine to wash it down .
All in all a superb chalet experience....we will be back!!
Alpine Chalet Weekends 19 May 11
Excellent chalet!
We spent a wonderful weekend at the chalet with Janet and Larry in July. They were great hosts (very informative as regards suggestions for sightseeing)and made us feel welcome and relaxed from arrival. Great food and company! There is plenty to do in the area. The chalet itself is beutiful - very comfortable rooms with fantastic views. Well worth a visit.
KMaguire 11 Aug 10
Fantastic time had by all
We had a wonderful long weekend at Chalet des Etoiles. The chalet was beautiful and the views stunning. Larry and Janet went out of their way to look after us, and I felt thoroughly spoilt!

Particular highlights were champagne in the hot tub, delicious dinners and of course our white water rafting trip.

There are numerous activities to try here in the summer, and I would highly recommend Chalet des Etoiles as the perfect base.


Dr Bush 24 Jun 10
Summer Holiday at Chalet des Etoiles
I spent a wonderful week at Chalet des Etoiles in August 2009. I had to keep pinching myself to believe it was true. The situation of the chalet, perched above St Jean d'Aulps is breathtaking and the views from all around the chalet are absolutely stunning. My room was beautifully furnished in a traditional style and there is a lot of attention to detail to make sure that the guests have everything they need to make their stay very comfortable and welcoming.
Janet and Larry are the perfect hosts and you immediately feel completely at home and part of the family. They are very pleased and proud to be sharing their beautiful home and they have created a very relaxed style of entertaining. The cooking was delicious, all home made with fresh ingredients and careful thought to how it is served. The wine was plentiful and the mealtimes full of animated chat and laughter. One of the best moments of the day was relaxing in the hot tub which almost floats over the valley. I felt pampered and spoilt. Most evenings and indeed breakfast, we ate outside on the verandah and it was wonderful to watch the dusk falling and the twinkling lights appearing in the valley below. Janet and Larry were attentive and nothing was too much trouble.
We spent the days walking in the mountains through amazing meadows of wild flowers and again, stunning views in every direction. The sun shone and the skies were azure blue. It really is a very special area.
I was reluctant to leave this magical place and felt very sad to be leaving. By the end of the week, Janet and Larry felt like lifelong friends. I cannot wait to return and have indeed booked my second visit in the summer.
viviensparkes 01 May 10
Super Weekend
First time we tried a weekend skiing and it was a really success - we seemed to get a weeks worth of skiing into four days and saw a good part of the Porte du Soleil. This was mainly due to Jan and Larry driving us around to different ski bases and showing us around the area on skis a couple of mornings - much better than ski-in ski-out in this area. It only took two and a half days out of work and the transfers from Geneva, which they arranged, worked like clockwork.

Without sounding too gushing we could not have asked for more, the hospitality, accommodation location and food was well beyond our already high expectations having seen other reviews. We both felt truly spoilt and have put in some dates for next year already. We feel we have made a couple of friends in the Alps as well as having had a great skiing break.

Whether you want to ski or just relax there are no reasons why you should not take a holiday here and every reason why you should! SWW 28 Mar 10
Superb holiday retreat
A wonderful first class venue for our 'girlie' weekend. For the first time the website photos matched the venue, with beautiful accommodation and fantastic views to match. Enjoyed the restful location away from the crowds. The food was spectacular ,delivered by two very warm and friendly hosts. Don't expect to lose weight here... the food and drink is far too delicious. The hot tub was the icing on the cake, with G+T in hand of course..... a welcome way to relax those tired muscles, after a hard day skiing. I would love to try it in the summer too, for a different type of holiday.Transport to and from the slopes was an added bonus and was very much appreciated.
A venue I hope to return to, with lasting happy memories. "Thank you Larry and Janet for such a happy holiday!" JLB 22 Mar 10 JLB 22 Mar 10
Great chalet for winter or summer break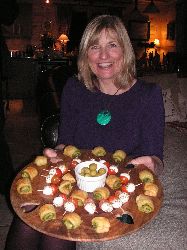 We had a splendid holiday at Chalet des Etoiles with Larry and Janet. Being driven to and from the airport and around the resort was a major plus. Ski conditions were excellent all week and there is a good variety of ski-ing. However what made the holiday special was the delicious food we were served. After afternoon and tea and homemade cake we had a G&T in the hot tub followed by a glass of bubbly (with canapes)and a lovely meal. Clean plates every night! Larry and Janet make you feel very welcome.
Rookery21 26 Feb 10
A wonderful weekend
The perfect venue for 7 girls celebrating a 40th birthday! Larry and Jan were the perfect hosts. We were collected from the airport and from that moment on we were looked after in every way - welcoming comfortable rooms, skis delivered and fitted, driven to and from the slopes, evening G&T's in the hot tub, served delicious food and wonderful wine! We all left with very happy memeories, a cake recipe (!!) and hopes to return again. Jane
JLR 09 Feb 10
perfect Summer or Winter chalet
We have had 3 holidays at Chalet des Etoiles, 2 in the winter and 1 in the summer. Everything it says on the web site is true if not better. The amazing views, the luxury of the chalet, the fantastic food and to top it all a jacuzzi out in the snow just make for the perfect holiday. The hosts Jan and Larry made us extremely welcome and do everything to make the holiday fun and relaxing all at the same time. Nothing is too much trouble. I would definately recommend it to anyone who likes to be pampered
zipper 28 Apr 09