Guest reviews:
Review posted online by Peder and Vivi
"Super hyggeligt sted
Chalet La Luge 16 May 16
Review posted online by Tarchini
"SETTIMANA DA SOGNO"
Reviewed 26 January 2015 stayed 17 - 24th January 2015

jjsconsul1 From Lugano, Switzerland

Au chalet la luge de Mini e Dan il te semble d'être à la maison avec la particularité chez tu es servi et chouchouter. La cuisine est excellente, le vin un des meilleurs et les chambres parfaites. La gentillesse de Mini et Dan font que vos vacances soient parfaites. Un endroit à ne pas manquer.
Room Tip: tutte le stanze sono perfette

GoogleTranslate:
DREAM WEEK
At Chalet La Luge Mini and Dan it seems to you to be at home with the special home you are served and pampered. The food is excellent, the wine one of the best and perfect rooms. The kindness of Mini and Dan make your holiday perfect. A place not to be missed.
Room Tip: all rooms are perfect Chalet La Luge 16 May 16
Review posted online by Luedi
Bern, Switzerland
"Superbe !"
Reviewed 13 July 2015

Accueil génial de la propriétaire Mme Mini avec un joli accent anglais ! Un lieu ou l'on se sent comme à la maison et que je recommande vivement! Petit déjeunér copieux.
On apprécie le calme de cet endroit.
Merci à Mini et Dan.
Room Tip: Chambres avec vue sur la plaine, et surtout très tranquille.
See more room tips
• Stayed July 2015, travelled as a couple
This review is the subjective opinion of a TripAdvisor member

GoogleTranslate:

great welcome from the owner Mrs Mini with a lovely English accent! A place where you feel at home and I highly recommend it! Hearty breakfast.
We appreciate the calm of this place.
Thank you to Dan and Mini.
Room Tip: Rooms overlooking the valley, and very quiet.
Chalet La Luge 16 May 16
Review posted online by Fleurentin
"Quel charme!!!"
from Metz, France

Reviewed 16 March 2016

Une semaine de calme dans un endroit raffiné. Magnifique chalet mais surtout un service d'une rare qualité en maison d'hôte. Mini et son mari Dan sont tellement gentils, les plats cuisinés époustouflants que l'on sait que l'on reviendra.
• Stayed March 2016, travelled as a couple

GoogleTranslate:
What Charm!
A week of calm in a refined place. Beautiful cottage but especially service of rare quality in a guest house. Mini and her husband Dan are so nice, the amazing dishes that we know we will return. Chalet La Luge 16 May 16
Review posted online by Helen
"Perfect Holiday!"
We have just returned from a fantastic holiday at Chalet la Luge. If you want a brilliant days skiing/snowboarding on the best slopes in the Verbier area followed by delicious homecooked 5 course feast then this is definitely the place for you. Friendly, immaculately kept and plenty to keep you occupied until dinner with hot tub, sauna and comfy TV room as well as lounge. The best catered chalet we have ever been to.
Room Tip: We had the room on the top floor - we'll ask for it again next time


stayed Jan 23 - 30 2016
Chalet La Luge 16 May 16
Review posted online by Jackie
"Fantastic chalet with fantastic hosts"
5 of 5 stars Reviewed 25 February 2016

This was our second trip to Chalet La Luge and it was just as good as we remembered. Mini and Dan are brilliant hosts and couldn't be more helpful. The food is superb and the best we've had in a Ski Chalet, and we've been to a lot over the years! Rooms and hot tub are great. Nothing is too much trouble for Mini and Dan and they cater for all size of groups and length of stays. We were a family group of 11 for a week last time and only 2 couples for 4 nights this time and the standard of everything was the same. Would highly recommend a stay.
Room Tip: All rooms are en-suite and have a fantastic view. Chalet La Luge 16 May 16
Review posted online by Pam
"Great Chalet, Great Hosts, Great Holiday"
5 of 5 stars Reviewed 27 February 2016

This was our first chalet holiday and we felt thoroughly pampered. The chalet is 8 years old and in immaculate condition, the en-suite rooms well-appointed with plentiful storage space. There is a lounge area and a separate snug with a second television. For relaxing the chalet has both a sauna and a hot tub. The chalet has boot warmers, so warm dry boot inners every morning!
Mini is a superb chef and the plentiful and varied breakfasts sent us out onto the slopes well fed; the 5 course dinners, accompanied by quality wines, were excellent.
In the mornings Dan provided a complimentary taxi service to the local gondola, this gives access to the La Tzoumaz ski area which proved to be more extensive than we had expected, having a number of red and blue runs on both sides of the mountain. Direct access to Verbier and the 4 Valleys. Post skiing, to get back to the chalet requires a ski bus ride and a short downhill walk. On return one is greeted with a different cake every day.
I have mentioned the hosts, Dan and Mini, they were superb in every respect from arranging the taxis to and from the rail station at Riddes (we travelled by train from Geneva, an easy journey with only one short change), to finding a birthday cake awaiting my husband when we went back to the chalet to pick up our bags and return home having skied throughout the last day; we cannot thank them enough.

Stayed February 2016, travelled with friends Chalet La Luge 16 May 16
Review posted online by Jane
"Skiing trip to La Tzoumaz and Chalet La Luge"
5 of 5 stars Reviewed 13 March 2016

We've just returned from a fantastic week at Chalet La Luge. Dan and Mini were impeccable hosts: friendly, relaxed and always willing to be helpful. They provided excellent information and advice about the local area, including skiing, restaurants, ski rental, transportation around La Tzoumaz, as well as transfers to and from the resort. Dan gave us lifts to the piste every morning (even on his day off), which was a real luxury, but it was also possible to catch a bus from outside the chalet.

Mini prepared superb breakfasts, afternoon cake and five-course evening meals. The meals were varied, creative and well-thought out. She catered extremely well for the one vegetarian in our party.

The chalet was clean, comfortable, relaxing and perfectly equipped for our needs. We thoroughly enjoyed the sauna after skiing whilst other guests often enjoyed the outdoor hot tub. We made use of the 'TV room' for relaxation and yoga after skiing.

Whilst we were in La Tzoumaz there was ample snowfall. We found the skiing in La Tzoumaz itself great fun in the poorer visibility whilst we enjoyed the routes to Verbier and the Four valleys very much on the sunnier days. The ski school Dan & Mini recommended (Tzoum' Evasion), for members of our group to explore off piste further, was superb.

All in all, a brilliant holiday! Thanks Mini and Dan!

Stayed March 2016, travelled with friends Chalet La Luge 16 May 16
Review posted online by Tim, Will & Emily
"Easter skiing"
5 of 5 stars Reviewed 2 weeks ago

We had a wonderful week with Dan and Mini who create a really relaxed atmosphere through the quality of the accommodation, amazing cooking, presentation of local food including cheeses and just by being so accommodating for what we - a large family group with 7 children between 10 and 2 - needed. We would definitely like to go back. Billy our 7 year old says 'incredible' - maybe because he was allowed to spend so much time watching films in the den
Stayed April 2016, travelled with family
Chalet La Luge 16 May 16
Review posted online by Colin
"Fantastic chalet "
5 of 5 stars Reviewed May 2016, stayed March 2016

Excellent week at Chalet La Luge with a group of friends. Hosting was excellent and the food from Mini something to look forward to every day. Chalet was superb inside with a stunning outlook...even better from the outdoor hot tub! We also appreciated the extra effort after our friends got engaged as Mini and Dan put on a champagne reception to celebrate with all the guests pre-dinner! Overall a fantastic holiday in a stunning chalet - would definitely stay again and would highly recommend!!!
PS - the 10K toboggan run down to the village is a must!!!
Travelled with friends
Chalet La Luge 16 May 16
Super 1/2 Term Holiday
Just a quick note to say many thanks for a great holiday with you at Chalet La Luge last week.
Your chalet is lovely and the views, hot tub + sauna, kids den, great food and very helpful service go to make it all into a great package. We enjoyed the 4 Vallees skiing and the kids certainly had a great time on their two days out with Kevin from Tzoum'Evasion. The relatively easy drive from and to the UK, the lack of queuing for the lifts and uncrowded slopes during 1/2 term were a lovely surprise.
Hope to back again soon
Karen Wing 25 Feb 14
5 star food in an Amazing Chalet!
We couldn't have asked for a better holiday! The food was divine, the setting was amazing and the hosts were wonderful. Even though there were 15 of us including 4 little people, the chalet never felt over crowded. The food was seriously exceptional and worth a visit even if you don't ski!! We can not recommend this place enough and if we were not moving back to Australia would be there again next year.
Thanks again Mini and Dan for a brilliant holiday and all the best for the future. Mel, Ross and Zoe x
MelanieWalter 04 Mar 09
Bon appetit !!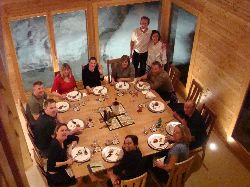 Had a fantastic time. Mini and Dan were the best hosts and really lovely people, so helpful. We were a group, including 4 young children which did not phase them, and we were very well taken care of.
The Chalet is beautiful and the spa on the decking was great at the end of the day with that awesome scenery.
The food was really delicious, so much and excellent quality. My son is still asking for Mini's porridge.
A truly great holiday.I would thoroughly recommend it. Carolyn, Chris, Oliver and Charlie

c_l_gill 26 Jan 09
Highly recommended!!
One of the greatest weeks ever! Mini and Dan are great hosts and everything was perfect. The chalet was absolute luxury and the food was divine. So close to some of the best skiing in the world, and a hot tub overlooking the alps to unwind after a tough day.

Rosie 16 Jan 09