Guest reviews:
Excellent family ski-ing
We visited Le Petit Chalet at Easter which was end of March, beginning of April . Our concerns about lack of snow so late in the season were unfounded- we had the best ski conditions with wonderful deep powder giving us the chance to explore the safe areas between pistes in La Tzoumaz valley with the children. The pistes themselves were very quiet with virtually no lift queues. Travelling across to Verbier by ski and bubble was easy and fun-only a short bus ride back as well!
The ski school was fantastic-the instructors spoke great English and the kids adored them.
The chalet itself was a delight to return to after a long days skiing- a roomy sauna, no shortage of hot water , a roaring fire and every mod con you could think of in the kitchen to make staying in to eat an easier option than we ever imagined. The kitchen cupboards were also amazingly well stocked with much much more than the basics you find in many self catered chalets so no need to bring half your kitchen larder with you! We intended to eat out more but found it hard to drag ourselves away from the cosy lounge area while the kids delighted in the separate 'playroom' with their own TV and X-box! The chalet also came with its own fantastic range of dvd's.
As a family ski destination I cannot recommend the area or the chalet itself highly enough-the holiday was declared 'the best ski holiday ever' by the whole family.
We can't wait to return!
Vicki F April 2015
snowangel 03 Nov 15
Fabulous fun in the snow
We really enjoyed our stay at the Le Petit chalet . La Tzoumaz is a fantastic resort because the pistes were really quiet and there weren't any queues. There was lots of snow so we could do lots of off piste skiing. The ski instructors were really nice-we could understand them easily and they really helped us improve our skiing. It was also very easy to ski to a thrilling snow park in Verbier, where you could race your friends or do jumps. When we got back from skiing, we could watch a movie or play on the x box. After a great days skiing we could always relax in the sauna. Can't wait to return for another holiday.
Oscar aged 10 and Lucia aged 13.
April 2015.
Gracefulrain 03 Nov 15
Highly recommended
NOT petit – 6 of us each had a room to ourselves, and spacious enough for twice that number, so perfect for families and groups.

The centre of the village is an enjoyable stroll (we walked back from a nice, Dutch bar one night) but as you'll be in a rush to get to the slopes, there's a frequent, free bus from the top of the chalet's heated drive. This also meant our cars had no problems getting in and out, especially with so much snow around.

The chalet is well thought out, and a luxury to come back to after a hard days skiing. Ample drying space for all your gear, and a blissfully indulgent sauna to unwind in.

Always warm, with a traditional, homely feel, feature fire, and 2 large areas to eat, drink, and socialise. The large rustic table was ideal for group meals, and playing games.

My bed was comfy, with lovely, fresh, crisp linen.

I slept like a log, but the power showers (one on the ground floor, one downstairs), and spectacular views, are enough to revive the weariest of limbs.

I would love to go back. Chris B 05 Mar 15
A fabulous snow filled break
Spent a few days at the lovely Petit Chalet with friends. Chalet worked well and the heated drive kept us moving with so much snow in the resort.
The chalet is well equipped, homely with stunning views. We were a group of adults on a short break; I would love to come back with my family. The resort is small but has everything you need for a great skiing trip. Would highly recommend. Claire@Augustine 25 Feb 15
Ski Heaven
A perfect family holiday location. The chalet is extremely comfortable, with lovely decor, all the equipment you need, comfy beds and linen. It's perfect for adults and children alike, giving each all the space they need. Booking was easy, very friendly and couldn't have been more helpful.

The village is quiet but has some good ski shops, bars and eateries. Access to the slopes is easy and the skiing is great. Wonderful slopes for all abilities on the Tzoumaz side and easy access over to the more challenging Verbier. The scenery is beautiful. I would thoroughly recommend Le Petit Chalet and hope to return one day soon.



Mrs Davies 10 Feb 15
Review posted online by The Down and Brown Family
We received a personal and friendly service. We found the Chalet very roomy with all the essentials for a comfortable stay. The children thoroughly enjoyed the novelty of the sauna and having two receptions allowed everyone a bit of space. La Tzoumaz was a quiet village which suited us and gave good access to the slopes above Verbier. Having the bus stop at the top of the drive was convenient although the bus was very crowded most days. To return from Verbier it was necessary to catch a ski bus back to the returning gondola but the buses were so frequent it rarely took more than 10 minutes so was not a problem.
A very enjoyable holiday was had by all. Le Petit Chalet 17 Jan 15
Unrivalled Swiss luxury
We stayed at Le Petit Chalet (a strange name considering the size of the place!) in April 2014. Our apprehension at skiing so late in the season was abated by the sheer brilliance of the Verbier region's pisteurs, battling high sun and relatively high overnight temperatures, the slopes were still skiable in all regions, every day. One day in fact, we broke off and visited the thermal spa in the valley which was delightful - swimming and outdoor sunbathing with breathtaking views of the mountainscape.

Le Petit Chalet is a beautiful property, a true, traditional swiss chalet with every conceivable mod con you could wish for on holiday. From the easy and friendly booking stage, right through to final departure, it worked like a Swiss timepiece! The chalet is situated at the edge of the village in a very peaceful area with stunning views, you can enjoy the village life and ski the whole region of Verbier with great ease. I've stayed in ski chalets throughout the world for over 20 years and feel Le Petit Chalet ranks amongst the best. Competitive prices, true luxury and great location. Crawf01 14 Jan 15
Le Petit Chalet...should be Le Grand Chalet!
Le Petit Chalet should be re-named le Grand Chalet! We were a group of 2 families, 10 of us in total, all accommodated very comfortably in the spacious 5 bed-roomed chalet with wonderful views of the mountains.
The chalet has a lovely traditional, homely feel and was perfectly equipped for our needs, especially the 2 living areas ideal for our large group, with the children retiring to the living/playroom to play Xbox games or watch DVDs from the extensive library. Le Petit Chalet was warm and cosy inside, with wonderful hotel quality white bedlinen, a seemingly never-ending supply of hot water for constant showers and baths. There is also a lovely outside space around the chalet that even in mid-late March gave us the opportunity to catch some wonderful sunshine!
This was our first time in the resort of La Tzoumaz, easily accessible from Geneva. The pistes and snow were immaculate, and best of all not crowded. We never queued for the lifts/gondolas, and were also able to access the free ski bus which had a bus stop at the top of the driveway of Le Petit Chalet. We were also very impressed with the quality of instructors at the local Ski School – classes were small – much smaller than in France.
The resort itself is probably not the place to go to for wild nightlife, but was perfect for us on a family holiday, with a nice selection of local bars and restaurants which were easily accessible on foot from the chalet. It is fair to say, however, that the warmth and home comforts of Le Petit Chalet won us over, with a majority of our nights spent with a warming drink in front of the fire – we will be back! NocoWal 12 Jun 14
Great break
Lovely resort. The chalet is very comfortable and well equipped. The owners have thought about everything and have equipped it as if it is their family home. That makes it all the more welcoming and comfortable. Families with children are particularly well catered for and there is plenty to do if anyone fancies a break from the outdoor activities. We were a group of 3 skiers. We were joined part way through by a friend and his family including a 6 year old. We had a great time and are looking forward to returning in another season so we can experience what the area has to offer beyond the skiing. Highly recommended.
porridgedog 08 May 14
perfect resting place after a fantastic 4 valley ski day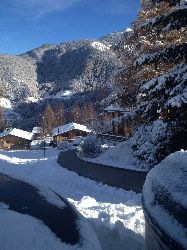 La Tzoumaz is a quiet little village just over the hill from verbier! in fact I bubble ride! the ski area is fantastic , after a long hard day ,nothing nicer than to arrive back to Le Petit Chalet , We spent a wonderful christmas week there, lovely beds with fresh linen, a very well equip kitchen , lovely dining and sitting area masses of space for 10/12 people, stylish decor,great kids gaming/play area downstairs.Great sauna, and plenty of hot water! This was in fact our third visit,but our first in the ski season. It is such a beautiful area and worth visiting any time of the year. I would recommend a stay here , We loved it we will be back again soon !
Mrs pickles 07 Jan 14