Guest reviews:
Review posted online by Martin Nicholas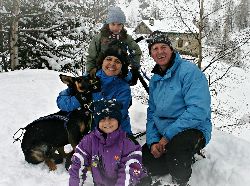 Cathy and Mark are excellent hosts with an excellently positioned warm and comfortable home (endless hot water), and their welcome and attention to detail is equally warm.
We had great food again, thanks Cathy, and even though Mark was breakfast monitor we ate good breakfasts too. Sorry not to hook up with you for a ski on this trip.
I hope to be back again. Martin

Go-Alpine Chalets & Apartments 04 Oct 16
Review posted online by Katie Watkins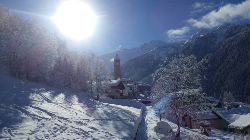 We were made to feel extremely welcome by Cathy and Mark, who are excellent owner/hosts. Their chalet Himalaya is in an excellent location, right in the middle of the Paradiski area of Les Arcs and La Plagne, so both areas are very easy to reach. The chalet is absolutely spotlessly clean throughout, and is perhaps the cleanest chalet I've ever stayed in. A hot tub is a must on our group trips, and this didn't disappoint, with the jacuzzi situated outside the living area on the decking with stunning views of the mountains surrounding the valley. It's an extremely peaceful and indulgent way to spend the evening. Thanks for a great week - Katie
Go-Alpine Chalets & Apartments 04 Oct 16
Review posted online by Julian Burrett
Chalet Himalaya was the perfect setup for us with a young family. Cathy and Mark did everything they could to ensure we, and our nippers, could make the most of our week away. From helping arrange childcare to a very special birthday cake, our stay was enjoyable and relaxed from airport pickup to return flight take-off. They even arranged some excellent snow for us!

We had a fantastic break and I can't recommend Go-Alpine highly enough.
Go-Alpine Chalets & Apartments 04 Oct 16
Review posted online by Rachel Carwardine
"Another fantastic stay at Chalet Himalaya" Wonderful chalet. Wonderful food. Wonderful company. Mark and Cathy get it right every time! The kids had such fun learning to ski as well as sledging, using the hot tub and making 'The Ice Dragon' outside the chalet. We will be back!!
Go-Alpine Chalets & Apartments 04 Oct 16
Review sent by email/letter by James C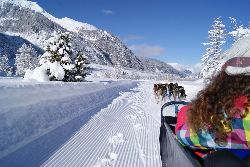 Chalet Himalaya is a great place to stay if you want an authentic French ski chalet. The decor and facilities are first rate modern and kept immaculately clean. Kathy and Mark are superb hosts Kathy's food is of top restaurant standard, and Mark couldn't do more to accommodate all the guests. Having the hottub was a joy & the fire is huge. The rooms themselves were of a very high quality with good quality sheets and fantastic showers in the bathrooms, which makes all the difference either end of the day. Great fun on the husky ride too - thanks for the tip. Have a great rest of the season. James and family
Go-Alpine Chalets & Apartments 04 Oct 16
Review sent by email/letter by John Brace
Debbie and I had a wonderful time staying with you a few weeks ago even though it was just a short break.

We really liked Chalet Himalaya and you both made us feel very welcome. Cathy you are a terrific cook and we really enjoyed the meals that you prepared for us. The location is lovely and we have fond memories of the village – so much a nicer as a location than some of the more modern 'concrete jungle' settings that we have visited in the past! Thank you again for making our short stay so enjoyable and memorable. You are terrific chalet hosts and I am sure we will return soon! John & Debbie Go-Alpine Chalets & Apartments 07 Oct 15
Review posted online by Lotte GARSSEN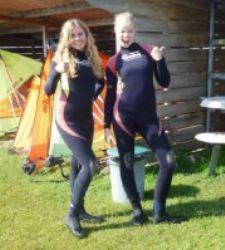 Geweldig chalet in een super wandel,skigebied

Met deze prachtig gelegen chalet met perfecte faciliteiten (Sauna,Jacuzzi,op iedere slaapkamer een badkamer met toilet,grote veranda) kan je vakantie niet meer mislukken. De beheerder komt met vele tips om in de omgeving te zien en te doen. je hebt door de centrale ligging tussen twee grote ski/wandelgebieden nauwelijks je auto nodig in dit pitoreske dorpje.Voor ons zeker een chalet en omgeving om nog eens terug te komen. Kortom top.
Het is een groot chalet zeer geschikt voor meerdere gezinnen of een grote groep.

Go-Alpine Chalets & Apartments 04 Oct 12