Sierra Nevada Ski, Snowboard & Summer Holidays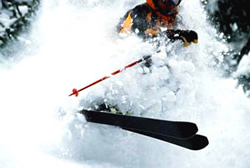 The Province of Granada in Andalucia, southern Spain, is characterised by extreme variables in landscape and climate, so much so that it's possible to ski in the mountains and go diving in the sea in the same day.
The stunning city of Granada is the region's capital, dominated by the magnificent Alhambra, an exquisitely designed and decorated Moorish palace that exemplifies the zenith of Muslim art and architecture.
There are countless other possibilities to explore: from going underground in cave dwellings in a desolate desert-like area, climbing the Iberian Peninsula's highest mountains or losing yourself in the region's rich Moorish history and fortified palaces.
The second highest mountain range in Europe, the Sierra Nevada National Park is an uninhabited rugged wilderness with snow on its peaks for most of the year. It also has Europe's most southerly ski resort and has some superb climbing and mountaineering opportunities.
Less than an hour's drive away is the area's coastline, known as the Costa Tropical, with a sub-tropical climate. Here the little villages and beach resorts have retained their Spanish character and charm. It boasts some spectacular cliffs, interspersed with secluded coves and sandy beaches, particularly in the protected coastal zone of Acantilados de Maro-Cerro Gordo Natural Area, which it shares with Malaga province.
Ski holidays in Sierra Nevada:
There are few places in the world where you can ski in the morning then head to the coast for a swim in the afternoon, but Sierra-Nevada's proximity to the Med allows this.

Don't be fooled into thinking that the skiing will be second rate either. 20 lifts serve over 65 km of piste but it can get busy at the weekends with bottlenecks at the lifts.
The pistes lend themselves to the intermediate but there is ample off-piste skiing for the advanced riders.
Off the pistes, there are some good restaurants and lively bars. If you get bored or the snow is not as good, just head for a beach!
Summer holidays in Sierra Nevada:
A massive choice of things to do in the region - from active and energetic to more leisurely. Walking, cycling, golf, and exploring the superb scenery are just some of the options!
Granada - famous for its Alhambra - this mighty compound of buildings – including the summer palace called Generalife, with its fountains and gardens - stands at the foot of the Sierra Nevada, and overlooks the city below
Winter activities include:
snow shoe walks, parapenting

Summer activities include:
walking, superb scenery, mountain biking