St Michael im Lungau Ski, Snowboard & Summer Holidays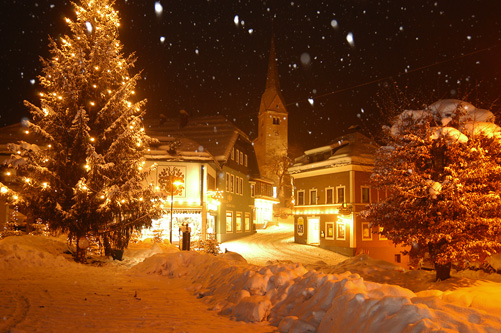 Tucked away in the lovely mountain landscape of the Niedere Tauern, St Michael im Lungau is a charming village, situated within easy reach of 4 ski areas.
St Michael im Lungau is unspoilt, set amongst breath-taking scenery, and is a great place toget away from it all and enjoy the outdoors at any time of year.
It is located in the Lungau, in the Salzburg region, which can be found in a very remote part of the province, about 100 kilometres south-east of Salzburg City. There are 15 municipalities in the Lungau, of which 14 are situated at altitudes above 1000 metres. Much of the Lungau is very rural, with 60 alpine lakes, numerous mountain cabins (Almen) and scenic mountains.
Both the Salzburg ARNO trail and the Lungau cultural trail wind through the village of Lessach. Along the way, youll find information plaques about the general history, architectural history (wooden granaries, chapels, tithe barn, Thurnschall Castle ruins), mining history, and legends of the Lessach Valley.
Ski holidays in St Michael im Lungau:
The Lungau ski region comprises Grosseck-Speiereck, Katschberg-Aineck and Fanningberg ski areas with 150 km of slopes, 32 lifts and reliable snow conditions
St Michael im Lungau itself has direct access to the Grosseck-Speiereck ski area. The Lungau ski pass gives you free transport to all areas.
The Lungo pass also gives you access to Obertauern and it's further 100km - giving you access to around 300km of skiing, all above 1000m
Summer holidays in St Michael im Lungau:
The whole area is one of great natural beauty with lots of oppportunities for hiking, cycling and enjoying the environment. Enjoy the numerous summer traditions and festivities and discover the local culture!
Winter activities include:
cross country skiing, ice-skating, hiking trails

Summer activities include:
climbing, hiking, walking, cycling, parapenting, outdoor pool, miniature golf course