Verbier Ski, Snowboard & Summer Holidays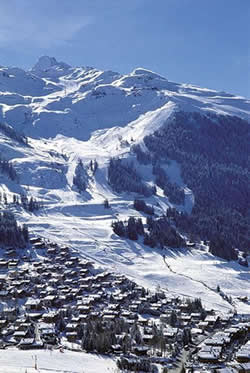 © VERBIER St-Bernard
Verbier has long been one of the most popular Swiss resorts, with an impressive ski area and a lively animated village in a sunny panoramic setting.
Now the new VERBIER St-Bernard tourist region unites Verbier, the Val de Bagnes, the Pays du St-Bernard, La Tzoumaz, Sembrancher and Vollèges.
It is a top destination for winter sports. It includes Verbier and its fantastic ski area of the 4 Valleys, as well as smaller resorts in the valley of St-Bernard, suitable for beginners or families. St-Bernard's valley is of course named after the pass to Italy and is also the home of the famous St-Bernard rescue dogs.
Ski holidays in Verbier:
Verbier Ski area:
Verbier is the main entry point to the 4 Vallées ski area, which comprises 410 km of ski-runs. It is one of the largest in Europe and is distinguished by the fact that it is completely negotiable without having to remove skis or snowboard.
Everyone can find slopes to suit their level of skills. Two beginner's slopes are situated at the heart of the resort. The Savoleyres sector, with its gentle, sunny covered slopes winding between arolla pines and larches, is particularly suited to families and those who enjoy relaxed skiing. The experts congregate at Mont-Fort, Mont-Gele or Tortin. A detour to Bruson allows one to discover the villages of Val de Bagnes and the slopes facing Verbier.

Off-piste skiing also contributes to Verbier's reputation. The powder snow fields in the immediate vicinity are world-renowned. For those who want to enjoy maximum visual impact, three peaks are accessible from Verbier by helicopter: le Petit Combin (3,672m), la Rosablanche (3,336m) and l'Aiguille du Tour (3,540).

St-Bernard ski area:
There are 4 different ski domains in the St-Bernard region: Vichères-Liddes, La Fouly, Champex-Lac3 and the Super St-Bernard, that can all be accessed using the same lift ticket. The region also includes La Tzoumaz, a family-oriented resort which directly shares the ski domain of Savoleyres/Tzoumaz with Verbier.
The connection to the 4 Valleys is possible from Verbier. With ski areas located at altitudes between 1500 and 3'330 m in the 4 Valleys, snow can be guaranteed from November till April.
Freeriders especially appreciate the many spots available to them. The 4 Valleys are famous for offering ski routes, trails that are marked and patrolled but not groomed. Beside these routes, there are numerous offpiste tracks where some of the best freeriders of the world meet. Freestylers enjoy a giant 120,000 sq.-metre snow park at La Chaux. It has many different lines adapted to different degrees of difficulty with jumps, boxes
and rails.
Summer holidays in Verbier:
Exceptional both for its many assets and for its scenery, the destination appeals to all kinds of people: mountain lovers, nature enthusiasts, sports fanatics and those with a taste for good living.
In summer, take advantage of the 950 km of signposted trails to enjoy hikes that will lead you to mountain peaks, or else head for the gentler, family-friendly paths. Cycling enthusiasts will also revel in a chance to experience the Tour de France route or to discover the marked mountain-bike trails.

The region features a wealth of cultural treasures that are sure to delight you. Among them, the famous Grand-St-Bernard mountain pass offers a chance to immerse yourself in a fascinating blend of hospitality and spirituality.
Local gourmet specialities are another key attraction.
Winter activities include:
hang gliding, parapenting, bowling, go-karting on ice, tobogganing, ice climbing, heli-skiing, snow mobiles, swimming pool, fitness centre, squash.

Summer activities include:
swimming pool, fitness centre, climbing, mountain biking, walking, golf