Veysonnaz Ski, Snowboard & Summer Holidays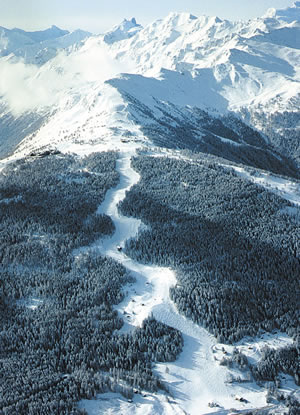 Just 13m by road above Sion is the traditional Swiss village of Veysonnaz. At 1400m the village provides stunning views of the Rhone valley and towards the Berner Alps, and is part of the extensive Swiss 4 Valleys ski area with over 400km of pistes.
Ski holidays in Veysonnaz:
This huge area stretches from Veysonnaz and the adjacent Les Collons / Thyon 2000, taking in Nendaz and Mont Fort (3330 m), and extending as far as Verbier and La Tzoumaz, opening up no fewer than 410 km of slopes and 95 lifts for skiers of all abilities. Naturally, there are winter sports schools for children and adults, as well as lots of alternative winter activities for non-skiers.
It is used as a training base for the Swiss national ski team and regularly hosts World Cup races on the Piste de l'Ours above the village.
Summer holidays in Veysonnaz:
There are about 300 km of footpath in the area around Veysonnaz, and there are also opportunities for more challenging tours in the high mountains. The walks take you through unspoilt nature: in Veysonnaz, the flora and fauna and pastureland are all protected.
The "Bisse de Vex", a traditional open irrigation channel ("Suone") typical of the Valais and dating from the 15th century, has been extensively restored for 12 kilometres of its length and now the water is flowing again. These "Suonen" give some idea of the concerns local people had about water, and nowadays provide pleasant walks with no great differences in altitude, but mostly with fantastic views.

Winter activities include:
skiing is the centre of activities, tobogganing, curling, swimming and ice-skating

Summer activities include:
superb scenery, hiking trails, mountain biking