Chalet - can be booked by the room
Catered basis
11 bedrooms, sleeps 24
Saturday to Saturday stays
7 minutes to lift by minibus
Available for summer and winter
wifi
parking
sauna/steam room
hot tub/jacuzzi
Hot tub, views
Chalet Beau Soleil
Our chalet - with its vast amounts of space - can offer any ski group many choices of rooms; there is no compromise on space here. A large hot tub, transfers included in your price, a billiards and darts room, a table tennis room, a snug ith oen fire and a large dining / meeting area with UK TV mean we are service orientated and that there's something here for everybody after the skiing...

Ideally located, we are within easy reach of the large resort of Châtel with access to all the lifts along the valley giving easy ski access to Avoriaz, Morzine. Les Gets and the Swiss resorts of Torgon, Morgin and Les Crosets.


Our suite rooms each have a super king bed, his and hers bathrooms with a full size bath and double shower, a living area / second bedroom if required, a large private south-facing balcony, TV with English channels, DVD players, iPod dock speaker system and WiFi access.

The ground floor houses our large kit room - including heated boot rack for 20 boots - drying rooms and table tennis area. On the first floor is the vast living area where you have the chance to relax in front of a roaring fire, cosy up with a good book, or challenge your friends to a game of darts or bar billiards (or one of our many other games that you will find there). Afternoon tea, comprised of home-baked favourites, will be served here allowing you to soak up the incredible mountain views, either snuggled up on a comfy sofa or outside on the amazingly vast patio / balcony. You will dine here on a four course menu that includes complimentary wine and beer with dinner.

We also offer ensuite double bedrooms and twin rooms, including private balconies. High quality Egyptian cotton linen and towels are available througout and next to the hot tub.
Accommodation:
Massive chalet with American-sized bedrooms including large private balconies and spacious en-suite bathrooms. The suite rooms include a living space or second bedroom if required, a his and hers bathroom with full size bath and double shower. High quality Egyptian cotton linen and towels.
Facilities:
billiard room, boot dryers, cot/highchair, games console, games room, garden, hot tub (outdoor), iPod docking station, laundry facilities, open fireplace, private parking (open), satellite/cable TV, steam room, terrace, wifi (free in-room), wifi (free public area), wifi/internet access
Cuisine:
Our meals are designed to give you energy for the slopes, a taste of the local specialities and a feeling of warm contentment as you relax in our home away from home. Rest assured that all of our meals are home-cooked and that we are used to catering for any dietary requirements.

We serve a satisfying continental breakfast every morning with a time-honoured, cooked option available upon request.

We provide homemade cakes and biscuits with afternoon tea, but they're available whether you choose to finish at lunch or ski the final lift of the day.

Our evening meals consist of a sympathetic blend of traditional classics and modern fare, with a tasteful choice of wines to accompany your meal.

We are also happy to cater for all birthdays and special occasions– please let us know if you require something special!
Services:
Transfers from and to Geneva Airport
Transport to and from your chosen lift each day, or local bars at night
Help pre-ordering lift passes, avoiding any potential delays
Help pre-booking any ski lessons, schools or equipment you may require for your holiday
Help sourcing local childcare / babysitting facilities if you require such services.
Resort & location information:
click +/- to maximise/minimise
Resort name: Châtel - Richebourg
Ski area: Portes du Soleil
Country: France
Advertiser with
Chalets Direct
since: January 2015
Guest reviews:
Review posted online by Josh H (Trip Advisor)
""We have been skiing for over 30 years, the food was the best we have ever hadn't any chalet! The staff are great, we were picked up and dropped off at any lift we wanted. Big thanks to Matt, Ben, Katherine, Pete and Ruth for a great time!""
26 Jul 17
Review posted online by (Trip Advisor)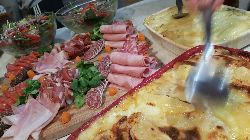 ""Had such a wonderful time skiing here. Staff were very accomodating - nothing was too much trouble (whether it was running us to the slopes or stopping at the supermarket for some fizz)! Food and wine was absolutely incredible (definitely the best I've ever had at a ski chalet) and rooms were great. Would definitely love to come back again, special thanks to Ben, Catherine, Pete, Matt and Ruth for making it such a fun week.""
26 Jul 17
Review posted online by andreahillers (Trip Advisor)
""Thanks for a great week, hosts couldn't have done more for us, food was fantastic and great selection of wines, nothing was too much trouble. The shuttle bus was a big bonus and never let us down. Big thanks to Kathrine,Ben, Pete, Matt and Ruth""
26 Jul 17
Review posted online by Bridget R (Trip Advisor)
""A truly great place to stay. The chalet is very spacious with great views across the valley. Amazing food and wine and very accompdating staff. Nothing was too much trouble; as a large group we had different requirement re picking up. Staff happy to collect those who were keen for the lovely cakes and tea and go back later for those who were enjoying the apres ski in Chatel.

Everything was made easy, ski collection, storage and boot warming (essential). Really appreciated at being able to choose which lifts to be dropped at so we could make the most of the snow conditions.

Thanks to Katherine, Ben, Matt, Pete and Ruth for ensuring we had such a fantastic week and for being such good company. A great ethos of "it's YOUR holiday"."" 26 Jul 17
Review posted online by Janet A (Trip Advisor)
""This is a great chalet, we had a fantastic week skiing. We started every day with a good choice for breakfast, hot food was made to order. then dropped off and picked up at the slopes. When back from the skiing a super afternoon tea was waiting, Matts scones where the best I have tasted! The food in the evening was delicious and plentiful, paired with excellent wine. Staff where very welcoming, nothing was to much trouble. Thanks for a great week.""
26 Jul 17
Review posted online by MissT1955 (Trip Advisor)
""Had a fantastic ski trip ,thanks to Kathryn,Ben,Pete,Matt and Ruth.we were a large group,of friends and family but nothing was too much trouble.
The food was wonderful,the cakes delicious and we all enjoyed the excellent wine selection.we were taken to which ever lift we wanted to go to and always picked up when requested.we had a large suite room with two bathrooms,unheard of in most chalets we have visited.
Good luck in your new venture"" 26 Jul 17
Review posted online by LucyRook (Trip Advisor)
""Everything about this chalet exceeded all expectations. We were travelling with 2 small children and the staff at Chalet Beau Soleil made everything so easy for us. The food was exceptional with wine that complimented beautifully and the facilities were second to none with comfortable and spacious rooms. Thank you for making our holiday.""
26 Jul 17
Review posted online by danielmccaughan (Trip Advisor)
""Really enjoyed our weekend break to this charming resort. Amazing food and even better service. Cannot recommend enough. Lovely resort, beautiful rooms. Can't wait to go back again next year. 10/10 all round.""
26 Jul 17
Review posted online by Len Richman (Trip Advisor)
""Thank you very much Kath, Ruth, Pete and Matt for making my one week stay at Chalet Beau Soleil so good. I was made to feel completely welcome at all times, my gluten free diet was accommodated with some fantastic dinners and Kath was always ready to dispense advice on which slopes to try next. I really enjoyed my stay, thanks again.""
26 Jul 17
Review posted online by g-gwna (Trip Advisor)
""We have just returned from Chatel and what a great experience.
The owners and staff at the chalet are the perfect hosts, nothing is too much trouble.
The service, food and accommodation are all fantastic.
This is 5* service without 5* prices.
You will find it hard to stay anywhere that ticks all the boxes as well as Beau Soleil.
Ideal for families and groups.
Many thanks for making our stay a truly memorable one !"" 26 Jul 17
Review posted online by Andy M (Trip Advisor)
""A wonderful experience - champagne & nibbles welcome, brilliant food & wine throughout with super friendly and helpful hosts. Our room was huge with lovely views down the valley. Katherine organised hassle free, local ski equipment hire (good for changing boots after a day) and prompt airport transfers. Shuttle is available for runs to the lifts (approx 15mins) in the morning and pick up in evening back to chalet from ski lift or apres ski bars. Nothing was too much trouble for our hosts and it felt like staying with old friends rather than a ski chalet experience. This place is <2 hrs from Geneva and has convenient access to Chatel and Avoriaz for great skiing. Thank you Katherine, Ruth, Matt & Pete - we'll be back - Throughly recommended.""
26 Jul 17
Review posted online by LTYY (Trip Advisor)
""What a great trip! Catherine, Pete, Matt and Ruth - thank you for an amazing week! Hot breakfasts, cakes cakes and more cakes, home cooked dinners, couldn't have asked for more after a long day on the slopes. If you're big on beds and sleep, you won't go wrong, they were one of the most comfortable beds I've been on! Free bus's were always full so the private pick up and drop offs were a treat! That's again team!""
26 Jul 17
Review posted online by LizPickard (Trip Advisor)
""Wow, what can I say, we had a superb time. The food was wonderful and plentiful. The chalet staff were so friendly and helpful. The skiing was great too. It was so refreshing to be able to get up, have a lovely cooked breakfast and then be taken right to the ski lift of our choice in the minibus. In the evening we were picked up and brought home in time for tea and cake and a fantastic evening meal. Thanks Katherine, Matt, Pete and Ruth, you are all stars""
26 Jul 17
Review posted online by Robin S (Trip Advisor)
""Good communications re pick up at airport - even brought us sandwiches and drink for the transfer as we were arriving late. They had picked up ski hire for us so we could hit the pistes first thing in the morning. Nothing was too much trouble. I would definitely go again!""
26 Jul 17
Review posted online by OrchardCourt2017 (Trip Advisor)
""We had a wonderful stay at Chalet Beau Soleil last week (4th - 11th March 2017). Matt & Kathryn looked after us superbly. Breakfast to order, cakes when we returned from the slopes and delicious evening meals conjured up by Matt. The team were very flexible regarding timings, we were dropped to our choice of lift station each morning and picked up after some apres-ski. The Chalet itself is perfect for families and groups of skiers who prefer a quiet location. The games room meant we were never short of evening entertainment. - Rick M""
26 Jul 17
Review posted online by Kevin B (Trip Advisor)
""Spent a fabulous week here with family and friends - resort had more snow at this late stage than others nearby - weather was great and we could ski all day in the sun . The chalet was an absolute dream - large rooms , well appointed , loads of space and within an easy chauffeur driven trip to several different resorts . The hosts were so welcoming and couldn't do enough for us even taking us out on the mountain and dispensing much needed tips on our techniques. The highlight for us however was the food -actual trained chefs cooking above restaurant standard food for every meal made us feel like royalty. I cannot recommend this chalet any more highly and hope to return in the future . If you're looking for a great family location I'd definitely give them a try.""
26 Jul 17
Review posted online by DTH_A13 (Trip Advisor)
""I've been on many ski/boarding holidays and tried all types of accommodation. I think I'd struggle to find an all round better place than Chalet Beau Soleil. Very large rooms, great location/ski resort, high end restaurant quality food, but more than anything wonderful hosts.

Couldn't give higher praise to Ben, Kathryn and Matt and the lovely kids. They made us so welcome and we felt very relaxed with our children in the chalet. We will almost certainly return."" 26 Jul 17