Chalet for sole occupancy
Catered basis
4 bedrooms, sleeps 8/10
Usually Saturday to Saturday stays, but flexible
20 minutes to lift by minibus
Available for summer and winter
wifi
parking
Own minibus transfers
Chalet Gove
For cancellations due to COVID-19, please see our cancellation policy - https://www.chaletgove.com/cancellation-policy

Chalet Gove is our converted farmhouse nestled in the pretty Lessach valley in the Lungau region of Salzburg, Austria. Providing much more than the traditional catered 'Chalet Experience' we (Alan & Maria Gove) are here to tailor your winter or summer holiday to your needs and really look after you, giving as much help and advice as you require.

With a mix of traditional and modern features Chalet Gove provides space, comfort and a relaxing, real home from home feel inside, and a sunny garden with wonderful views outside. It really is beautiful here and the area is steeped in tradition and a sustainable way of living, recognised in 2012 by UNESCO when they awarded the area Biosphere park status.

In winter - we have access to four wonderful ski/board areas with tree lined, un-crowded slopes, superb mountain bars and restaurants with non-inflated prices, all covered under the Lungo ski pass. With its unique positioning the Lungo ski region in Salzburgerland guarantees you snow and excellent skiing from the end of November through to the start of May.

All slopes are on pastureland requiring less depth of snow and with fewer people in the slopes, it lasts a lot longer. A wide variety of slopes and different areas to ski provides something for all abilities and a choice depending on weather conditions. Non-skiers are also well catered for with lovely snowy walks, swimming pools, spas and places to visit, plus it is easy to meet up with skiers for lunch on the slopes.


In summer - step out the door and breathe in the fresh clear air and decide what to do; you are at the start of numerous walks, hikes, cycle or mountain bike rides. A few minutes down the road and a whole range of activities are available to you, be it white water rafting, horse riding, golf, outdoor activity centres, swimming pools, spas, museums or castles to name just a few and all guests staying with us receive a free Lungau card entitling them to free or discounted entrance to all of them.


Please see our website chaletgove.com for more information and link to Tripadvisor for detailed guest reviews where we have been rated 'Excellent' every year since we opened in 2011.




Accommodation:
4 spacious bedrooms, 3 able to take additional bed / bunkbeds and cot.
4 en-suite bathrooms with underfloor heating, heated towelrails and super shower units.
A hairdryer is in each bedroom.
Large lounge with comfy seating, TV, media centre, Wii machine and numerous board games.
Area off lounge with fridge for guest use and drinks area - complimentary tea, coffee, soft drinks and fresh fruit available at all times.
Full size table football.
Separate dining room.
Large heated equipment room with seating, shelves, hangers, glove warming cupboard and plenty of space for skis, boards, boots and helmets. There is direct access to the garage and the minibus from here.
Utility room with sink, drying facilities, iron and ironing board, there is also a washing machine and tumble dryer for which there is a small charge.
Secure bike storage area and workroom.
Free wifi access is available throughout the house.
Garden with decking and covered gazebo.
Facilities:
barbecue, bicycles for hire, cot/highchair, games console, garden, laundry facilities, private parking (open), satellite/cable TV, wifi (free in-room), wifi (free public area), wifi/internet access
Cuisine:
We serve a continental breakfast each morning consisting of a selection of cereals, fresh fruit salad, yogurts, ham, cheese, freshly baked homemade rolls, toast, jams, honey, porridge and a choice of boiled, poached, fried or scrambled egg along with fruit juices, freshly ground coffee and tea.

Every afternoon there is delicious homemade cake.

On 6 of the evenings we serve a three course meal with wine (on 5 evenings in Summer). All meals are made from fresh ingredients using organic or local produce where ever possible.

We can cater for most special diets, please let us know your requirements at time of booking.

For evenings eating out there is an excellent choice of restaurants nearby.

Tea and coffee making facilities, soft drinks and fresh fruit are available all day.
Services:
Transfers from and to Salzburg airport and to and from the slopes each day is included in our winter prices.

We will help sort out the best ski pass for you (beginners can benefit from an area points pass)

We will take you to the equipment hire shop and help get you kitted out.

We will organise and take you to your lessons making sure you are in the right place and know what to expect.

We can ski with you and show you around the area if you so require.
Resort & location information:
click +/- to maximise/minimise
Resort name: Lessach
Ski area: Lungo
Country: Austria
Amenities: adventure park, bars and restaurants, bus stop, cash withdrawal facility, childcare, cross country skiing, cycling, free shuttle bus, golf, hairdressers, high altitude restaurants, hiking, horse driven sleigh rides, horse riding, lake, mini golf, mountain biking, paragliding, rafting, railway station, ski touring, skiing, skiing/snowboarding, sledging pistes, snowshoe walking, supermarket, swimming pool (indoor), swimming pool (outdoor), tennis, toboganning, tourist office
tel:

Austria - (0)648420141
mob:

Austria - (0)6605716030
Advertiser with
Chalets Direct
since: September 2014
Guest reviews:
Review posted online by Louise Partridge
"Ski trip with the girls to the fabulous Chalet Gove.

This is our fourth year in a row staying with the wonderful Alan and Maria at Chalet Gove for a short ski and mountain trip. Here is what I love about staying with Alan and Maria: They sort all of the airport transfers, equipment hire, obtaining lift passes, lessons etc....; They provide daily advice on weather and which resort would be best for that day; They provide amazing food and company all the time and it is completely obvious that they just want all their guests to have a wonderful trip. This year I decided that skiing isn't for me.....but I still plan to be back every year with the ski girls because I love our trip and I love staying with Alan and Maria and I know they will finds ways to accommodate my new found non-skiing status - mountain walk anyone?

Stayed with us 7th to 11th March 2020
Posted on Tripaadvisor 24th April 2020" 19 Feb 21
Review posted online by Family Speed
"Just perfect!

Yet another amazing holiday at Chalet Gove. Alan and Maria are just the best hosts thinking of everything to make your stay relaxing, carefree and fun. The home cooked food is delicious, the wine flows and accommodation is just excellent - comfortable, spacious and with all the amenities you need. They provide sound advice on the best place to ski everyday... and the ski area is really excellent for families. Plenty of variety but not too busy. We were lucky to spend new year at Chalet Gove and Alan and Maria went all out to make it a memorable night with fireworks and champagne. I can't recommend Chalet Gove enough (and nor can my children). We're keen to explore it in the summer sometime soon as that looks to be an amazing holiday too.

Posted on Tripadvisor April 24th 2020
Stayed with us Dec 28th to Jan 4th 2020" 19 Feb 21
Review posted online by Riches Family
"This was our third visit to Alan and Maria. Their welcome, hospitality and cuisine are all first class. They take great care to ensure your visit is enjoyable and that you get the most from the variety of resorts available to ski. They are happy to show you round the resorts and guide you around the different runs so you get to see the most from your trip.
They are brilliant hosts who are thoroughly recommended.

Posted April 24th 2020 on Tripadvisor
Stayed with us 18th - 25th January 2020" 19 Feb 21
Review posted online by Latta family
"Perfect Ski Holiday at Chalet Gove

Yet again we were lucky enough to spend a wonderful week with friends and family at Chalet Gove. The perfect organisation and hospitality of Alan and Maria ensure everybody in the group has a fantastic holiday experience. The food is truly amazing and anything that can be done to enhance your stay, is done. It is located in a fabulous area for skiing with many ski resorts easily accessible to ensure good skiing everyday for all standards and staminas. They are wonderful hosts who have become friends, we are already looking forward to our next visit. We wouldn't hesitate to recommend a stay with Alan and Maria, we feel so lucky to have discovered this gem in such a beautiful part of Austria.

Review April 2020" 17 Aug 20
Review posted online by Mo Barnett
"Just perfect

Yet another amazing holiday at Chalet Gove. Alan and Maria are just the best hosts thinking of everything to make your stay relaxing, carefree and fun. The home cooked food is delicious, the wine flows and accommodation is just excellent - comfortable, spacious and with all the amenities you need. They provide sound advice on the best place to ski everyday... and the ski area is really excellent for families. Plenty of variety but not too busy. We were lucky to spend new year at Chalet Gove and Alan and Maria went all out to make it a memorable night with fireworks and champagne. I can't recommend Chalet Gove enough (and nor can my children). We're keen to explore it in the summer sometime soon as that looks to be an amazing holiday too.

Review Jan 2020" 17 Aug 20
Review posted online by Mark Southwell
"A real taste of rural life in this beautiful part of Austria

We have recently returned back from Chalet Gove after a wonderful 4 night stay in this lovely part of Austria.
The hosts Maria & Alan made us feel very welcome, and their chalet is finished to a high standard throughout. Our room was large and had a very comfortable Queen size double bed, with a large en-suite with modern shower and under floor heating.
The food during our stay was wonderful, and all seemed to be freshly prepared local produce to a very high standard.
The whole area is stunning and you get a true sense of rural life in this Unesco Biosphere protected area.
We really enjoyed our planned walks provided by Alan each day, and particularly enjoyed the day when they made the time to come with us to a couple of lakes nestling in the mountains.

Over the past 25 years I have travelled extensively and this is one of the most enjoyable stays experienced, and wouldn't hesitate in recommending this chalet to family and friends
We are already planning our return trip next year. As other reviewers have already mentioned this seems to be a common trend, that once discovered never forgotten.

Review Sep 24th 2019" 17 Aug 20
Review posted online by Sylvia K
"Wonderful Experience

Location just beautiful. Chalet clean and well appointed. Home cooking very enjoyable. Escorted organised walking trips extremely well organised to cater for our group. Organised outings of interest and restaurant visits to nice places to eat. Warm and helpful hosts.

Review July 19 2019" 17 Aug 20
Review posted online by Louise Partridge
"Girls ski trip with the best hosts ever

Thank you Alan and Maria for looking after me on my third ski trip. As a late learner, the support, advice and ski "companioning" from Alan and Maria makes such a difference. Fanningberg is a fantastic resort for learning to ski, and the other resorts in the near vicinity offer huge choice for every level of ability and weather conditions. Alan and Maria carefully curate the best ski options for guests each day. Not only that, they are fabulous hosts and the catering is superb - brilliant home cooked no nonsense food. As a busy business owner having to make lots of decisions on a daily basis, it is a delight to entrust myself to this lovely caring couple.

Review Feb 1 2019" 17 Aug 20
Review posted online by Raymond R
"Amazing holiday

Just got back from a week walking holiday and couldn't fault anything. Our host Maria and Alan were very welcoming. The accommodation is very spacious with great amenities, the village and the surrounding area is beautiful and the walks were fantastic as was the food cooked by Maria :-) We would definitely recommend Chalet Gove to anyone looking for a relaxing holiday in Austria.

Review Sep 9 2018" 17 Aug 20
Review posted online by L M Knight
"Summer family fun

We've just had the most lovely summer holiday in Chalet Gove. Our boys are 5 and 12 and our only problem was that we didn't have long enough to do all the things on offer. If you're looking for wonderful hospitality, adventure and summertime fun, I can't recommend this chalet highly enough.
Thank you Alan and Maria and we are looking forward to returning soon.

Review Aug 9 2018" 17 Aug 20
Review posted online by Hughes Family - February 2018
"Chalet Gove cannot be faulted. From the moment we were welcomed at Salzburg airport to the final goodbye a week later ... it has been one of the best ski weeks we have ever had!

Alan & Maria are impeccable hosts, cooking up a variety of delicious meals for breakfast, afternoon cakes and evening 3-course dinners. Even catering for our varied dietary requirements without batting an eye-lid!

Maria and Alan keep the chalet in tip-top condition, making our beds, cleaning and tidying up on a daily basis, even leaving a chocolate on our pillows every day! Wifi is very good, which nowadays is a must when you go away on holiday!

We were personally taken to the slopes each day at the time we requested and then picked up for the return journey, again when we requested. Even dropping us off for a sledging afternoon nearby one day! Awesome fun!

The bedrooms are spacious, all with beautiful, quality fitted out en-suites with heated floors and excellent showers.

The heated boot room is actually "heated", we've come across so many that state they are heated when they aren't! There is also a separate kitchen area to use which has a washing machine and dryer (payable locally).

The spacious lounge is well fitted out with enough comfy sofas to relax on and an area to make tea/coffee and fridge for beers etc! It also has a very good table football for those competitive people!!

Chalet Gove is the perfect place to stay for skiing (winter) or hiking/cycling (summer) in the Lungau Region and we cannot recommend it highly enough. We have already booked for 2 years time already ... yes they get booked up in advance from a lot of happy returning customers, which is no surprise!" 31 Jul 18
Review posted online by Alison Lovitt
"The Chalet is located in a small Austrian village close to several skiing areas, the main commercial skiing area is Obertauren. We were collected from the airport by Alan, one of the chalet owners. The care and attention to our enjoyment and needs were equal to a 5 star service. The holiday was made relaxing by the taxiing around that Alan did both in the organisation of our ski equipment hire and daily lifts to which ever ski area we chose to ski at. We were three families with a mixture of children aging from 7 to 17. The slopes were largely quiet, the snow was fantastic and the areas offered a variety of slopes to ski on. We ate out one evening at a lovely Italian restaurant. Maria the other owner and Alan's wife is very organised and a great cook. We had a varied menu which everyone loved and the home made cakes to return to at the end of the skiing was something to look forward to. The rooms all have an en suite bathroom with a fabulous power shower. And the bed was so very comfortable.
We loved our holiday so much we have booked to return next year!
The summer in the Austrian alps also looks interesting, we may try this one year!

Stayed February 2018" 02 Mar 18
Review posted online by Prince
"Wonderful hospitality yet again. Everything is made so easy and enjoyable which is great when traveling with kids. The food is amazing, all home cooked and wholesome, just what you need for a day on the slopes. The bedrooms are modern and very comfortable with superb bathrooms. We can't recommend it highly enough.

Stayed April 2017, travelled with family" 26 Apr 17
Review posted online by Latta
"Chalet Gove is an amazing place to stay and relax when you have been skiing in one of the many local ski resorts. The thing that makes it truly exceptional is the friendly and warm hospitality that you are greeted with and the excellent food!!!!
I would highly recommend this place to others as a relaxing and welcoming place to stay.

Stayed April 2017, travelled with family" 26 Apr 17
Review posted online by Cole
"Just returned after a family Xmas in this superb location.The hosts Alan and maria are top hosts nothing too much trouble and had thought of everything you cod want. Great knowledge of area and ski resorts all within short drives.Great breakfast to start the day afternoon tea with homemade cake and pot of tea.Evening meal three course with wine ,great choice for all.Even laid on snow last 2 days,couldn't ask for more.Rooms all on suite huge and cosy lounge with great selection of movies and wi fit as well so great for kids at night.Great pick up from airport .
DEFINITELY LOVE TO GO BACK .Yes please santa


Stayed December 2016, travelled with family" 26 Apr 17
Review posted online by Riches
"There is little you can add to excellent reviews that have already been posted. Alan and Marie are the most hospitable and friendly hosts you could wish to meet and nothing is too much trouble for them. They made our family celebrations of Christmas and 2 birthdays very special ensuring that we had a very comfortable stay. They did everything they could to make it very memorable and we cannot thank them enough for that. The accommodation is very good and the catering is first class. The cakes, dinners and curry were all most enjoyable. We highly recommend this venue.

Room Tip: Great views from the rooms of the church and the valley


Stayed December 2016, travelled with family" 26 Apr 17
Review posted online by Stott
"For our party of five adults and two teenagers Chalet Gove is a home from home.
A "new to skiing" adult in our group came on leaps and bounds with the brilliant private lessons from the ski school. As always nothing is too much trouble for our chalet hosts leading to another fantastic week with truly excellent cakes and evening meals after a hard day skiing!
Despite it being half term the slopes and lifts were quiet, with lots of choice from the restaurant's for lunch at very reasonable prices.
Roll on next season in this little gem.

Room Tip: All rooms are great

Stayed February 2017, travelled with family" 26 Apr 17
Review posted online by Pearlman
"Have just returned from our skiing holiday at chalet gove and have to say a massive thank you to its hosts, Alan and Maria for giving us such a wonderful time. The food, including a different homemade cake with our afternoon tea every day, was delicious, exceptionally clean accommodation throughout, invigorating shower, knowledgeable ski guides; everything was perfect!Both Alan and Maria were very welcoming and fun to be around and we are looking forward to our holiday with them next year - keep practicing the table football Alan!!! Thank you once again for providing us with many special memories xx

Stayed February 2017, travelled as a couple" 26 Apr 17
Review posted online by Christine and Paul White
"We visited Chalet Gove for a last minute ski holiday having found it 2 weeks before on an internet search. From the trip advisor reviews and their own website we got the feeling this was a special place and we were not disappointed.
The chalet is delightful ,the location is picturesque and Maria and Alan are the best hosts ever.
Being away from the slopes meant we got a real sense of the Austrian experience rather than just being in any ski resort, which we liked. If you were looking for the traditional scene of Apres ski bars this is probably not for you but for us it was great. Returning to the chalet every day for delicious cakes followed by a lovely meal and wine in good company was enough Apres Ski for us.
Alan chauffeured us to and from the slopes every day and our skis were magically loaded onto the van every morning and unloaded again on our return. It was great to have the benefit of his and Maria's local knowledge and have them as our ski guides as we got to know the area.
There was only another party of 3 staying with us that week but we all got on really well with a shared love of good food, excellent accommodation and being so well looked after by Alan and Maria!

Stayed February 2017" 26 Apr 17
Review posted online by Edwards & Gilson-Fox party
"As 2 families (a group of 4 adults and 5 children aged 14-8yrs) we have just returned from a fantastic week's skiing, staying at Chalet Gove. From collection at the airport to drop off a week later,Maria and Alan make you feel welcome - young or old.
The 3 local ski resorts were great and catered for all abilities from beginner to those with more experience. Having previously been to France skiing, we would certainly return to Austria - it was very friendly and the slopes were great and a lot less crowded!! The hassle is taken away for you as Chalet Gove organise your equipment hire and collection, as well as organisation of ski passes and lessons at ski school. Alan transports you to and from as well as going that extra mile with both he (and Maria) skiing with you on occasion, providing a "personal" guide to the slopes.
Chalet Gove provides a relaxed, comfortable home from home feel. Having previously checked any particular dietary likes/dislikes or requirements, Maria provides home cooked delicious 3 course meals plus wine every evening, ( if you can still manage it having earlier tempted you with freshly baked cakes/treats when you returned from the slopes!!).
All in all a fabulous experience for adults and children alike.
Stayed March 2016, travelled with family" 27 Apr 16
Review posted online by Speed party
"We have just returned from our first ever family skiing holiday and thanks to Alan and Maria it could not have been better. From the moment we enquired about booking Chalet Gove, Alan and Maria have given us all the help we needed including arranging transfers and car hire, organising the boot and ski hire and booking the skiing lessons. Chalet Gove itself is ideal for families and groups. We hired all four rooms, which were all spotless and very comfortable. Homemade cakes and freshly cooked food everyday were very much appreciated by all of us following the days of skiing. We were all very sad to leave and cannot thank Alan and Maria enough for their hospitality.

Stayed February 2016, travelled with family" 27 Apr 16
Review posted online by Gaunt party
"Just back from a week at Chalet Gove with the whole family to celebrate my 50th Birthday & it was perfect. The accommodation was fantastic - all rooms are en-suite & the power showers were a huge hit after a hard days skiing. The lounge is very comfortable & there is an entertainment system with loads of films, music & games to suit everyone. The food was fab - lots of it & of great quality - the afternoon cakes are to die for !
Maria & Alan are the perfect hosts - nothing is too much trouble - they look after your every need - all you need to do is sit back, relax & most importantly enjoy !
The skiing was great with a choice of 4 different resorts with plenty of runs for all abilities. As we were a large family group we skied Fanningberg 4 of the days as it is quiet & best suited for mixed abilities with a few long blue runs which had lots of wee paths through the trees - a huge hit with young & old ! Obertauern is a massive resort with loads of good skiing - this is a must visit if you are an intermediate or expert skier - it's a lot busier but well worth a visit.
If you are looking for somewhere with great accommodation, fab food, lots of skiing & perfect hosts, then you've just found it - book Chalet Gove you won't be disappointed !

Stayed February 2016, travelled with family" 27 Apr 16
Review posted online by Daniel T
"A group of 9 of us visited chalet Gove for a week's skiing holiday in January. It was quite simply a fantastic week! Alan and Maria are wonderful hosts and make the stay all the more enjoyable.

The 1st day we were greeted with a champagne reception and homemade shortbread which was a lovely way to kick off the holiday.

Each morning we were able to choose from a wide variety of scrumptious breakfast options including, toast with jam or marmalade, poached eggs, cereal and tea and coffee and more. Alan then was more than happy to drive us to the ski slopes in his new van which was very comfortable and perfect for a group of people in ski wear.

The skiing was fantastic and made all the better for plans local knowledge of the slopes.

Each afternoon we were welcomed back at the chalet with homemade cakes and tea and coffee in the living room my personal favourite was Maria's lemon drizzle cake!!. The living room was very spacious and well stocked with bored games, it is a lovely place to relax after a hard days skiing. Each evening we were treated to a home made 3 course meal that was easily of restaurant standard!

As for the rooms, they were very spacious and well decorated, the bathroom and shower facilities in each room were brilliant. The rooms are tidied and cleaned each day to a high standard and a chocolate is left on your pillow which is a nice touch.

This is a highly recommended destination and I look forward to returning in the future. Nothing is too much trouble for Alan and Maria and the whole experience was faultless!" 27 Apr 16
Review posted online by Ian Hardwick
"A superb spacious chalet......
Spacious rooms, with great en suite facilities ......
Fantastic home cooked food, delicious cakes and biscuits.......
Alan and Maria are wonderful hosts.....
The option to ski different areas.....
Stress free transfers......
Door to slope ski drop off.....
Great knowledge of the area ......
Great ski terrain to suit all levels....
Fab boot room with glove warmer.....

The list goes on, this was by far one the most enjoyable ski trips we have had. Normally we choose accomodation which is "ski in ski out" or very close to the slopes. So the idea of driving to the slopes was new to us, but it was lovely to get to see some of the beautiful scenery and to be able to ski the different areas was wonderful. Twenty minutes maximum from the chalet to the ski slopes.

Alan and Maria are great hosts who go the extra mile to make your stay special. We had a great trip and are looking forward to a return trip next season. This is truly a magical place to visit.

Stayed February 2015, travelled with friends" 30 Apr 15
Review posted online by Alan & Rose Holton
"Being walkers who enjoy snow and fabulous scenery, this holiday was a joy!!! We found it easy & rewarding to find stunning walks where the scenery takes your breath away and the clean pure air heightens your senses and revises you!

All this and an amazing 'home' to come back to - Maria and Alan are the perfect hosts serving up delicious meals in lovely surroundings. Both were helpful, friendly and fun to be around and made you feel totally at home in their gorgeous, spacious and well equipped chalet. The showers alone are worth going for, as they are just super powerful and luxurious! Next visit for Summer Walking - can't wait!!!

Thank you for a wonderful relaxing and revitalising holiday !" 30 Apr 15
Review posted online by Powell family
""Excellent accommodation and wonderful hosts.,."
My wife, myself and our 4 year old stayed at Chalet Gove for a week and had the best holiday! I have skied for 20 years and stayed at many catered chalets in the past but this is the best I have stayed in by some distance. Maria and Alan are superb hosts and look after everything you need - Maria's cooking is awesome!! Don't be put off by the out of resort location as superb skiing for all abilities is a short drive away - Alan dropped us off and collected us each day which was just what we all needed after a day of skiing. Maria and Alan are passionate about what they do and the result is a fabulous holiday with everything carefully thought out for you. We will be back next year...

Stayed April 2015" 30 Apr 15
Review posted online by Stephen Prince
"For a first time family ski holiday, we are so glad we chose Chalet Gove. Alan and Maria are wonderful hosts and make the process of sorting out all the ski hire, ski school, lift passes and transfers, stress free. The experience is so homely and enjoyable that none of us wanted to leave at the end of our stay. Thoroughly recommended - we are already booked to go back at Christmas!
Thank you Alan and Maria.
Stella, Stevie, John and Phoebe.

Stayed April 2015" 30 Apr 15
Review posted online by Stott family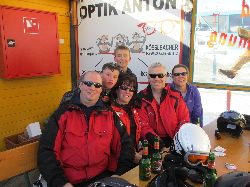 "Epic!
We stayed at Chalet Gove the week after the half term with our 2 boys aged 13 and 11(snowboard converts) and 2 friends. Well 4 friends if you include Alan and Maria!
Children's perspective- Food fantastic especially absolutley delicious cakes (better than England!)
Comfy beds, great Wii games and group participation! Really loved snow boarding for the first time - up and going in 3 lessons. Enjoyed helping Alan clear the big snowfall off the driveway. Please can we come back next year it was epic!!!
We felt that this was definatley a five star individually tailored service. Magnificent hospitality from Maria and Alan. The chalet was comfortable and immaculate at all times and the village is beautiful especially when covered in snow.Fanningberg provided good skiing for beginners to advanced, plenty of restuarants on the slopes at reasonable prices. No queing for the lifts after being safely transported to the slopes. Another 13 out of ten from us!! Can't wait until next year.

Stayed February 2013, travelled with family"
16 Sep 14
Review posted online by Paul Dobbins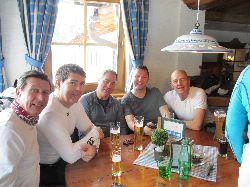 "Snow, beer, food and friends

Had an absolutely brilliant week at Chalet Gove. We have only ever done ski in ski out, or chalets in resort, so was a little unsure when we booked, however no need to worry at all - Alan takes you to be within a few metres of the slope which made it easier (and quicker) than many in resort chalets we've been to in the past. With returns to the chalet during the day available, it allowed any that did not want to ski from dusk till dawn the flexibility not to.

We all commented that in the days when we had the kids in tow, this would have been the perfect place to come (and us four men given time off for good behaviour found it pretty perfect even without the kids).

The chalet itself is brilliant, beautifully fitted out and rooms all with superb en suites. Food was great morning, afternoon and night and there was plenty of everything (ie beer, wine, food .... etc)

Oh, and the skiing..... It was one of the best skiing destinations we'd been to. Being last week in March and the start of Easter, we were worried about snow and crowds. Snow was incredible and only one we often had the piste to ourselves.

If you are after wild nights out, this is not for you but Alan picked us up after a bit of Apres Ski at the slopes, and as a group who like a few beers, we were more than happy with things.

We had a great week, Maria and Alan are great hosts, and we will have no hesitation to come here again - perhaps in summer next time as it is in a beautiful location.

Thanks for a great holiday!"
16 Sep 14
Review posted online by Richard Sykes
"The best of everything

I am experienced skier and I have stayed with friends and family at many hosted chalets mainly in Italy and France. Chalet Gove is without doubt the best I have stayed at. I liked it that much I returned within a year. Maria and Alan are a great hosts and do everything they can to make your stay as enjoyable as they can without overstepping the mark and making a fuss.

I admit to being apprehensive about the thought of travelling to slope each day as it appeared at odds with the benefits of being in a resort. However, after a great nights sleep in the beautifully clean bedroom room, a generous choice at breakfast awaits. All you then have to do is go to the boot room, collect your kit and put everything in the mini bus all inside the chalet. Maria or Alan then drive you to one of the fantastic resorts that are in striking distance and within no time you are on the first lift. Having carried my children's ski's for year's (and wife's) through resorts to and from the lifts, being dropped off virtually at the lift as it opens was a revelation. In my opinion it is better than ski in ski out.
The variety and scope of the slopes in the area is excellent with something for everyone and the huts/bars on the hills are very good, run by families who seem to care and are very reasonably priced. When you return to the chalet a hot drink and a lovely cake awaits you each day followed by a time to relax and change before evening drinks and a consistently good evening meal. I cannot fault it and will be returning next year.

Feb2014" 16 Sep 14
Review posted online by Mark Frampton
"Nestled in the Lungau Valley in a quiet rural village, Chalet Gove is a wonderful base for local activities. We were on a skiing holiday, and several ski fields are in the area, with the closest, Fanningberg, only a 20 minute drive away.

The chalet is about an hour and a half away from Salzburg airport, and it was very useful to have a transfer service available.

The chalet itself is fantastic. Our room was clean, modern and spacious and the en suite bathroom was large and had a fantastic shower with all the bells and whistles, as well as a heated floor.
A home from home!

Maria and Alan are brilliant hosts, friendly, helpful and offering excellent accommodation and service, including picking us up from the airport and ferrying us to and from the ski field each day. The continental breakfasts had plenty on offer, with options available for porridge and perfectly boiled eggs. Each day's afternoon cake was delicious and a real treat to welcome us back from the slopes. The 3 course evening meals were superb, with plenty of variety during the week.

I highly recommend Chalet Gove. There is not a single thing to criticise, and we are looking forward to returning there next year.

Stayed February 2014, travelled as a couple" 16 Sep 14