Chalet for sole occupancy
Catered basis
5 bedrooms, sleeps 12/14
Saturday to Saturday stays
2 minutes to lift by foot
wifi
parking
hot tub/jacuzzi
pets welcome
credit cards accepted
Fab location
Chalet Foehn
This superbly positioned Meribel chalet is within 100 metres of the lift and close to the shops, lively bar and restaurants in this lovely alpine village.
It offers all the comfort and space you could wish for. It has the added feature of outdoor hot-tub, located on the large wraparound sundeck, a great way to relax at the end of the day.
The bright spacious lounge and dining room have stunning views which can also be enjoyed from its large south facing outside area. The comfortable lounge area is warm and inviting with a cosy log fire.
The chalet is spread over 3 layers, so gives plenty of space to spread out.
It comprises 5 ensuite bedrooms. Upstairs the 2 bedrooms, can sleep up to 4 and are spacious with en-suite bathrooms and have their own balconies. Downstairs the Twin bedrooms are a good size with their own en-suite shower rooms.
Built tastefully and to exacting high standards by a local family it has proved to be a great success. The chalet benefits from the best of modern technology and traditional architecture with under-floor central heating, individual room temperature control, large double glazed windows and wonderful views.
Ideal for a group of friends, individuals, couples or several families.
Accommodation:
Catered chalet
Accommodates 12-14 guests
100m to village centre
100m to ski lift
100m to ski bus stop
5 bedrooms consisting of:

3 twin bedrooms with en-suite shower
2 Quad bedrooms (1 with adjoining annex), sleep 3/4 with ensuite bathrooms

Outside hot-tub with superb views
Cosy Log fire
Large south facing sun deck
TV, DVD & sound system
Complimentary Wi-fi
Ski & boot storage
Private parking
Staff live in
For further information, click on the following link (will open in separate window): Winter
Current Promotions for Chalet Foehn:
Exceptional Meribel catered chalet offer, w/c Sat 06 Jan 2024 Hot tub, all bedrooms ensuite, 2mins to telecabine
Dates: 06 Jan 24 - 13 Jan 24
EXCEPTIONAL OFFER, 6th January 2024 This Meribel chalet is currently available during our super value week at £7,890.
Meribel chalet with 5 ensuite bedrooms, sleeps 12-14 * hot tub with stunning views *easy access to lifts and village * Cosy woodburner * wifi at your fingertips * Great for all levels of skier * Brilliant choice of non-ski activities
Stunning Christmas offer for this lovely Meribel catered chalet, sleeps 12-14, easy access to 3 Valley Skiing, & end of day Hot Tub,
Dates: 23 Dec 23 - 30 Dec 23
Celebrate Christmas in total relaxation & amazing Meribel skiing with our EXCLUSIVE PROMOTION, Christmas offer for Chalet Direct customers..... This chalet is currently discounted for a limited period to £9,490 from £11,290.

Meribel chalet with 5 lovely ensuite bedrooms, sleeps 12-14 * hot tub with stunning views * easy access to lifts and village centre * Great for all levels of skier * Plenty of non-ski activities *

Fully catered chalet, come and enjoy total relaxation!
Facilities:
cot/highchair, hot tub (outdoor), iPod docking station, laundry facilities, open fireplace, pets allowed, private parking (open), terrace, wifi (free in-room), wifi (free public area)
Cuisine:
We provide a delicious menu of tasty and appetizing food, freshly prepared in your chalet and produced from fresh local ingredients.

What's included in our Meribel chalets:

Breakfast: The day starts with a fantastic breakfast. Kick off your day with a hearty breakfast of hot and cold options to choose from. Service provided 5 mornings a week (2 mornings of self-service breakfast of cold options to help yourselves too)

Afternoon tea: This will be waiting for you on your return from skiing with a variation of either, freshly baked cakes, homemade cookies, tea, coffee, fruit cordial, French baguettes & a selection of jams.

Evening meal: This comprises a delicious three course meal accompanied by complimentary wine. Vegetarian Menu: We are very happy to provide a vegetarian alternative. Service provided 5 nights a week. (Allows 2 evenings to enjoy our excellent reasonably priced local restaurants, or a choice of takeaway options on the hosts nights off).


Children's menu: Children are well catered for with the preparation of home-cooked favorites. In all our Meribel chalets early teas can be provided for young children.
For information, click on the following link (will open in separate window): Cuisine
Services:
Ski passes and ski lessons can all be arranged in advance of your arrival, saving that frantic rush on your first morning. Prebooked passes will be delivered to your chalet, so that you are ready to take the lift from Meribel Les Allues. We can give great advice on all the ski school options.
Ski hire on your doorstep. A dedicated ski hire shop is conveniently located just a few metres from all of our chalets, offering a discount for all our customers. British run, well stocked and with a choice of equipment you can choose from. The competitive pricing will suit all budgets.
Upon arrival at your chalet our carefully chosen staff will be there to greet you and answer any questions.
We take a great deal of care in our choice of staff in order that you may enjoy not only delicious food and a well maintained chalet, but also friendly and responsible hosts. In addition to this, Janey our local manager is resident in Meribel Les Allues to ensure that all runs smoothly.
Access to Meribel centre is easy, just 10mins away. There is a free public shuttle bus service (operates 07:30-half past midnight). This allows hopping up and down to Meribel to be quick, if you are looking for more restaurants, bars, apres ski, shops and sports facilities.
Resort & location information:
click +/- to maximise/minimise
Resort name: Meribel - Les Allues
Ski area: 3 Vallées
Country: France
Amenities: bars and restaurants, beauticians, biathlon courses, bowling, bus station, bus stop, canoeing, canyoning, cash withdrawal facility, childcare, cinema, climbing wall, cross country skiing, cycling, doctor, fishing, fitness centre, free shuttle bus, freelance catering, golf, gym, gym classes, hairdressers, half pipe, high altitude restaurants, hiking, horse driven sleigh rides, horse riding, ice diving, ice rink, lake, massage, mini golf, mountain biking, mountaineering, night sledging, nightclub, off piste guiding, paragliding, parapenting, pilates classes, rafting, railway station, ski school, ski touring, skidoo safaris, skiing, skiing/snowboarding, sledging pistes, snow mobiling, snowboard school, snowshoe walking, spa, supermarket, swimming pool (indoor), tennis, torch lit descents, tourist office, via ferrata, yoga classes
Guest reviews:
Review sent by email/letter by Dave Farmer
"Thank you again for another great week in Les Allues. We have been staying with you, consecutively for more than 10 years now and we have always found it an enjoyable experience, we found it to be exceptional this year thanks to the culinary expertise of our hosts and their willingness to satisfy our every requirement, especially with regard to the kids.
Dave Farmer, 05 April 2019, Chalet Charmille, Meribel" 27 Apr 20
Review sent by email/letter by Nick Leigh
"Thank you very much for having us in your chalet and it was great to meet you. We all had an excellent time. The chalet was lovely; cosy, homely and providing everything we needed. The resort was great. This was my first visit to Meribel and I'm impressed with the number and variety of the runs available over the three valleys. We managed to ski everyday albeit not quite all day every day.
Particularly; I'd like to thank Jesse and Fiona, our hosts. They both looked after us brilliantly. The food was delicious, the packed lunches just right and the cakes wonderful. I am still shocked how nice vegan brownies can be!
Nick Leigh, 25 Mar 2019 Chalet Foehn, Meribel" 27 Apr 20
Review sent by email/letter by Leslie Watts, 01 Apr 2017
"Hi Janey, just wanted to drop you an email to say thank you so very much for the wonderful week we had with Ski Blanc last week! The week couldn't be more perfect - thankyou. Gael and Georgie really looked after and I would like to personally thank you too for all your organization from start to finish."
04 Jul 17
Review sent by email/letter by Mr P Francis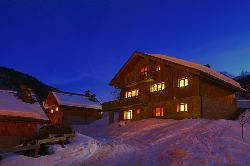 ""What can I say except thank you all for just an amazing ski week in Chalet Foehn!

Everything was organized brilliantly by you, Josh and Emily were fantastic hosts, the courtesy bus driven by Jenny & Matt was a godsend, the lockers saved a lot of heartache and the snow and sun made it perfect!!!!

Once again, thank you for everything".

14 Mar 16 Chalet Foehn, Meribel"
11 Jul 16
Review sent by email/letter by Mrs A Edmond
"I just wanted to thank you for our holiday in Chalet Foehn.
We had a great time, our hosts were brillian and excellent cooks. The chalet was lovely and we thoroughly enjoyed ourselves.
Hope to visit again next year!
Thanks again Alison 27 March 2015" 28 May 15
Review sent by email/letter by Mr Noah Cartwright
"Just a quick note to thank you and our fantastic chalet hosts. We were looked after incredibly well and well above expectation. The food was also great.

Thanks again

Noah
08 April 2015" 28 May 15
Review sent by email/letter by A Hunter
"On behalf of all of our party I just want to say thanks once again for an amazing time with Ski Blanc in Chalet Foehn.
As ever, the chalet hosts were brilliant and the food - catering for allergies, vegetarians, children and the rest - as always, generous, tasty and top quality.
The week was enjoyed equally by those in the 4th year with Ski Blanc as much as the newbies. With the amount of interest already expressed since returning home - we might need two chalets next year!
The count down has already begun.
Cheers
Ali 15 January 2013" 20 Aug 13
Review sent by email/letter by L Rutalnd
"Just wanted to say what a fantastic time we have had at Chalet Foehn. We were looked after so well by Melissa and Lee. They went out of their way to make sure the children had something they liked to eat each evening and they were always very friendly and chatty. It was our first time being 'hosted' in any holiday situation - one that I wasn't sure about - but it was a pleasure.

Meribel Les Allues seemed to us to be the perfect setting for a ski holiday. The bubble made a lovely trip each morning from just a few yards away. The taxi service came in very handy and again worked perfectly. We even hitched a lift back on Friday with all our skis straight to the ski shop!

All in all it was an absolutely incredible week and I hope we'll be able to repeat it next year!)

Thank you to all of you for making it so.

Best wishes

Lynn 03 March 2013" 20 Aug 13
Review sent by email/letter by S Pinner
"Thank you for making our stay in Foehn the best ski trip we have all had!! Lee and Melissa were brilliant hosts and the location and accommodation is fantastic and we are already planning next year!! 23 Feb 2013 S Pinner"
20 Aug 13
Review sent by email/letter by S Jones
""Now that we are back in the UK, I just wanted to drop you a line to thank you and your team for making our stay at Chalet Foehn such an enjoyable one. The accommodation was very good indeed and Darren and Hannah were excellent hosts; indeed we viewed them very much as friends, as we did with you. Darren and Hannah were also fantastic with Levi and Kai, so please pass our thanks to them."
23 March 2011" 15 Aug 11
Review sent by email/letter by K Clarkson
""I wanted to drop you a quick line to thank you, Darren and Hannah, Jenny and Roddy for making our holiday so great. Everything about the chalet was better than I could have hoped - and easier: from arranging arrivals, getting ski hire, proximity to the cable car and the genuine convenience of the minibus lifts.
Darren and Hannah were absolutely fantastic: the food was unsurpassable and they were both genuinely helpful, cheery and tolerant! I wouldn't hesitate to recommend both the chalet or the company to anyone looking to book a ski holiday."

4 Jan 2011, K Clarkson" 05 Aug 11