Chalet - can be booked by the room
Bed & Breakfast, Self Catered or Catered basis
4 bedrooms, sleeps 2/10
Usually Saturday to Saturday stays, but flexible
2 minutes to lift by ski bus
wifi
parking
sauna/steam room
hot tub/jacuzzi
pets welcome
credit cards accepted
Hot tub, sauna,
Chalet du Fruit
Chalet du Fruit is a newly renovated chalet in the authentic mountain village of Meribel. The original wooden framework of this barn and the vaulted ceilings of its stables have been conserved creating a stunning catered chalet.
The chalet has an open-plan kitchen where your chalet cook will cook up delicious homemade hearty meals at the end of your skiing day, the kitchen leads out directly into the dining area with its traditional farmhouse style table, and is separated from the living area by the fire place built in wood and stone ensuring a warm and friendly ambience.
The master bedroom has a real chalet feeling, up in the eaves with its old wooden beams, plus en-suite corner bath & wc.
There is a sunny south facing terrace perfect for apres ski or you can relax on the plush sofas before going down to the 'stables' for a jacuzzi and sauna.
Accommodation:
Four comfortable en-suite rooms including family room, triple room, twin room and double room
Spacious lounge and dining area with open fire
South facing terrace
Sauna & Hot Tub (accessed extrenally) Boot room with heated boot racks and laundry facilities
Satellite TV, & Games console.
Facilities:
boot dryers, cot/highchair, games console, hot tub (indoor), iPod docking station, laundry facilities, open fireplace, pets allowed, private parking (open), satellite/cable TV, sauna, wifi (free public area)
Cuisine:
All menus are prepared under the supervision of Peter Jones, Academician of the Academy of Culinary Arts. They feature regional specialtiesand modern cooking using locally sourced fresh produce.
Special diets, religious diets and vegetarian options can be provided on request.
Tea and Coffee is brought to your bedside each morning.
Breakfasts including fresh bread & preservesn croissants, pain au chocolate and Bacon & Egg
Afternoon tea is served with a selection of pastries and cakes .
Dinner, three course dinner served with the house table wine or soft drinks.
Tea and coffee is made available to guests as required.
Packed lunches are available (charged locally)
Beverage hampers available including beer, wine and snacks (charged locally)
Services:
AktivExperience aims to provide a new dimension to Chalet holidays. A professional family company with a wealth of experience that is demonstrated by its ideas and concepts.
Accommodation & food
Experienced staff to look after you during your stay
Pre bookable lift passes brought to your chalet prior to arrival to ensure you are on the mountain as quickly as possible, No pass office = No hassle
Pre bookable ski and board hire delivered to your chalet, collected from your chalet and fitted in the comfort of your chalet plus up to 40% discount when pre booked.
Sourcing and booking of transfers, nannies, restaurant reservations, & après ski activities (local charges apply)
Resort & location information:
click +/- to maximise/minimise
Resort name: Meribel
Ski area: 3 Vallées
Country: France
Amenities: accrobranche, adventure park, bars and restaurants, beauticians, biathlon courses, bowling, bus stop, cash withdrawal facility, casino, childcare, cinema, climbing wall, cross country skiing, cycling, devil carts, doctor, dog sled rides, fishing, fitness centre, free shuttle bus, freelance catering, glacier skiing, golf, gym, gym classes, hairdressers, half pipe, heliskiing, high altitude restaurants, high ropes course, hiking, horse driven sleigh rides, horse riding, huski dogs, ice rink, lake, massage, mini golf, mountain biking, mountaineering, night skiing, nightclub, off piste guiding, paragliding, parapenting, rafting, ski school, ski touring, skidoo safaris, skiing, skiing/snowboarding, sledging pistes, snow kiting, snow mobiling, snowboard school, snowshoe walking, spa, supermarket, swimming pool (indoor), tennis, torch lit descents, tourist office, via ferrata
View this member's featured properties
tel:

France - 0033 (0) 621 921 364
tel:

UK - 0044 (0) 2032860016
mob:

France - 0033 (0) 621 921 364
skype:

aktivexperienceoffice
facebook:

AktivExperience
Advertiser with
Chalets Direct
since: September 2005
Guest reviews:
Skiing & Star Spotting
"What a wonderful stay with Claire & Ben, we stayed in Chalet Christina last year and had a great trip, Ben is an excellent cook & the chalet was lovely, maybe a little tired but as we found out the chalet had been sold and Claire & Ben were taking on the Fruit chalet (this chalet I am reveiwing), a new one for them, they even gave us a tour and WOW! modern & new with a real alpine charm, plus the added benefit of the sauna and hot tub.

Our stay in Meribel was enjoyable, we had some fantastic conditions for skiing, the company was great plus we spotted Rob Brydon and also the band The Feeling and Sophie Ellis Bextor in the pub (There was a free out door concert too at the Ronnie where we saw The Feeling play). On our deaprture day as we were waiting for Andy our transfer guy, Claire & Bens new guests arrived and we were pleasantly surprised to see they were the 4 Poofs and a Piano from the Jonathan Ross show and we met Howard Marks they were staying there in the chalet we were just leaving!!!

All in all a great week with old and new friends, good luck to Claire & Ben for next winter although I do not think they need it, they have managed to source a real gem for you all to stay in." magicskier07 29 Jul 10
Love the new chalet!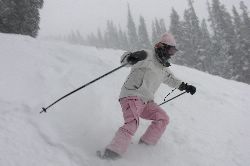 "The new Chalet is lovely, bright, airy, clean and in a great spot!

After staying with Clare and Ben several times now it is great to see their portfolio increase with the new improved addition.

Can't wait to return next season - bring on Nov and some more great snow!"
debbielucas 01 Jul 10
AktivExperience
"For the last two years we have booked our Ski holiday with Claire & Ben, staying in Chalet Christina. Both holidays we receieved a wonderful warm welcome, which continued throughout the holiday. The Chalet was beautiful and cosy, and the service provided by Claire, Ben & Steve was 5*. We have several highlights from our holidays; meeting other guests staying in Chalet Christina who were brilliant, steak night which was yummy, the hot tob was a hit for the aching bones, and seeing a 6ft7" rugby player hula hoop on Wii!! Thanks Claire, Ben, Steve and we cannot forget Noah!"
katy.snaith@cips.org 16 Jun 10
Meribel
"I had an amazing stay in Meribel, Claire and Ben were amazing hosts as always, and little Noah was toooooooo cute. The food was amazing, the beds were comfortable and weather was perfect!! We couldn't have asked for anything more!! We shall definitely be back!!

Sav and Lexy x" lexyd 15 Jun 10
My stay
"January 2010, what a week we had in the chalet. From booking, through to leaving nothing was too much trouble, the food was fantastic, especially the french themed night, well we were in France after all. Ben & Claire were friendly and really helped us out, especially when our luggage got lost and they had spare kit to lend us until the bags arrived.

The chalet was gorgeous, perfect for our family stay, wonderful roaring fire to sit around with afternoon tea while the kids played on the Wii! never underestimate the power of the games condole with weary kids.
Besides the great skiing, my favorite part of the day was heading down to the Hot Tub & Sauna with a cold glass of something to ease my weary legs.

We will be back!" imperial 15 Jun 10