Chalet - can be booked by the room
Catered basis
6 bedrooms, sleeps 1/14
Usually Saturday to Saturday stays, but flexible
3 minutes to lift by minibus
Available for summer and winter
wifi
pets welcome
credit cards accepted
Genuine hospitality
La Portette
For people in search of something authentic. At La Portette you will find genuine hospitality in a fabulous setting.
La Portette is a 250 year old converted farmhouse featuring stone walls, beamed ceilings, old wooden doors and a spiral staircase.
Owner run, we offer a genuinely flexible and personalised service.
Enjoy the superb accommodation, including a huge living room with giant, squashy sofas and the amazing views to the distant Mont Blanc.
Come home to the charm and character of a real farming hamlet - with a free minibus service of only 3 minutes, on tap!
We're right at the heart of Paradiski. From Montchavin you can ski all of La Plagne, or take the Vanoise Express across to Les Arcs.
Services include:

In chalet ski, boot and board fitting
Lift passes ready on arrival
Ski lessons pre-booked (small group sizes, English speaking instructors)
Shuttle service to/from the lifts, available all day
Fantastic food
Hairdryers. big towels and jars of smarties in the bedrooms
Short breaks available.
Check our availability and prices here or send us an enquiry for more information.
CREDIT/ DEBIT CARDS ACCEPTED
EUROSTAR to Aime La Plagne or Bourg Saint Maurice
Accommodation:
Bedrooms
6 bedrooms sleeping up to 14:

1) Small double, wooden beams, great views, en suite shower
2) Huge family suite: four poster, separate bunk room, en suite shower & loo
3) Big double room, spectacular views, en suite shower & loo
4) Twin room
5) Double room with wooden four poster bed
6) Twin room with traditional savoyard curtained beds
Communal bathroom for rooms 4,5,6 (bath, shower over, loo)
Separate loo

Living and dining area

Huge open plan 'loft' living area that takes up the entire top floor of the house
Wood burning stove
Picture windows with mountain views
Big, squashy sofas
Wifi, books, games, CDs and DVDs are on hand for rainy days or lazy afternoons
Box of toys and books for children
Large balcony with sweeping views of mountains and the distant Mont Blanc
Wide spiral staircase connects the 3 floors
Facilities:
boot dryers, computer, cot/highchair, iPod docking station, open fireplace, pets allowed, satellite/cable TV, terrace, wifi (free in-room), wifi (free public area), wifi/internet access, wood burning stove
Cuisine:
Breakfasts,
to start the day off properly, a changing menu of:
continental croissants, breads, pains au chocolat;
home made yogurts, museli, cereals;
fresh eggs;
hot porridge;
English breakfasts;
pancakes and maple syrup
Afternoon teas and cakes,
to enjoy by the fire or on the balcony - delicious cakes, teas, coffees, hot chocolate or mulled wines.
Aperitifs,
served in our comfortable warm sitting room, include escargots, local salamis & cheeses, and house cocktails.
Fabulous Dinners,
served with bottled wine from our local wine merchant, include:
Salmon Mousse
Roast Port Stuffed with Toulouse Sausages & Prunes
V - Roasted Pumkpin Risotto
Classic Tarte Tatin with vanilla ice cream
Roquefort Cheese Tarts with Balsamic Pears
Slow cooked lamb in red wine with mediterranean vegetables
V - Mediterranean Lasagne
Chocolate Genepi Biscuit Creams
Parmesan Crusted Hake with garlic roasted tomatoes
Duck breast with cherry sauce & dauphinois potatoes
V - Vegetarian Tartiflette
Strawberry Tartlets with creme anglais
Warm Lentil & Goats Cheese Salad
Beef, Ale & Roquefort Pie with mashed potatoes and peas
V - Creamy Spinach, Beetroot and Sorrel Tart
Sticky Toffee Puddings
Wild Mushroom Risotto
Mustard and tarragon glazed chicken breasts
V - Stuffed Aubergine Parcels
Meringue Roulade
We are happy to cater for any diet: vegan, vegetarian, flexitarian, keto, gluten free/coeliac.
Mountains, inc. Services:
Breakfast, afternoon tea and fabulous 3 course dinners with wine. (Chalet hosts have one day off during the week when dinner is not provided).
Early children's suppers provided.
Hot chocolate and mulled wine served in the afternoons.
Free in-resort transport to the village centre and lifts, at your convenience
Lots of help with organising lift passes, child care, tuition, ski and boot hire.
Wine cellar option for added luxury!
Hairdryers in every room.
Weekly optional outing to the Olympic bobsleigh at Plagne 1800
Free transfers from the local train stations: Aime, Landry or Bourg Saint Maurice.
Resort & location information:
click +/- to maximise/minimise
Resort name: La Plagne - Montchavin
Ski area: Paradiski
Country: France
Amenities: accrobranche, adventure park, bars and restaurants, beauticians, bus station, bus stop, cash withdrawal facility, childcare, cinema, cross country skiing, cycling, doctor, dog sled rides, fitness centre, free shuttle bus, freelance catering, glacier skiing, gym, gym classes, hairdressers, high altitude restaurants, high ropes course, hiking, horse riding, huski dogs, ice rink, massage, micro brewery/restaurant, mountain biking, mountaineering, night sledging, nightclub, off piste guiding, paragliding, parapenting, rafting, railway station, ski school, ski touring, skiing, skiing/snowboarding, sledging pistes, snow mobiling, snowboard school, snowshoe walking, spa, supermarket, swimming pool (indoor), swimming pool (outdoor), tennis, torch lit descents, tourist office, trotinette, via ferrata, yoga classes
Advertiser with
Chalets Direct
since: October 2005
Guest reviews:
Review posted online by Jo F
""truly magical christmas"
Reviewed January 9, 2015 for a stay in December 2014
We stayed at La Portette for Christmas week with my 3 children (4-11years) and teenage niece, plus another family with similar age children. The chalet is absolutely beautiful and a really magical place to be at christmas. Liza (chalet owner) has made the chalet feel like home from home, our chalet hosts were fabulous with amazing food. The all-round service was first class (arranging ski-hire with fittings at the chalet, lift passes, lessons, lifts to and from the slopes multiple times a day etc.) and we were made to feel that nothing was too much to ask! I would absolutely and fully recommend La Portette to anyone and everyone. Amazing!!!" 19 Sep 18
Review posted online by Jerry
""Great week skiing with fantastic homely relaxing base."
Reviewed March 21, 2015 for a stay in March 2015

From the start and throughout the week, we were made to feel at home in a refreshingly relaxed atmosphere.
The accommodation was very homely and we were also fortunate enough to be sharing with a great group of friendly and sociable skiers. The top floor was open plan and a great meeting place at the end of the day for all the guests and a beer or two.
Though the chalet is not ski in or out, we were taken by mini bus to the lift whenever we were ready and collected promptly when we were done. No walking or carrying to worry about. Ski and boot room below the chalet with good drying facilities for boots.

FOOD: Each day we were presented with a different freshly baked cake while drinks, including tea and coffee were available at all times. Breakfast catered well for all of us, including bacon and eggs cooked however you liked them.
Dinner in the evening however was exceptional! Each night three courses cooked to perfection .... demonstrated by the silence which often fell across the table when first served until the silence was broken by very sincere comments of appreciation. Each night a very different menu - more than enough for all following a full day on the slopes and very well received. The evening meal was genuinely something to look forward to each day.

We thank Dan and Bess for a great week and Lisa for also making us so welcome and at home in their chalet." 19 Sep 18
Review posted online by Wyn
"Amazing views, and hospitality. We came to watch the Tour de France and nothing was too much trouble even when we returned back late or left early for a cycle. The food was excellent and one of the highlights every day. Thank you so much for your large part in what was a wonderful holiday. Diolch.
July 2018" 19 Sep 18
Review posted online by Steve C
""Tremendous"
Reviewed February 12, 2016 for a stay in January 2016

I don't normally do reviews, but for this chalet I had to make an exception.

What better way to start your day than breakfast with a view of the mountains and the sun just hitting the top of Mont Blanc.

Tremendous. Nothing too much trouble. Transfers, ski passes, anything you want help with, Liza's an expert.

Excellent food, relaxing environment, dropped off and picked up at the lifts. The most difficult thing you'll have to do, is decide whether to go left to Les Arc or right to La Plagne. Both ski areas are easily accessed from this location." 19 Sep 18
Review posted online by Miss Plums
""Amazing,amazing,amazing"
Reviewed June 26, 2015 for a stay in March 2015
Wasn't going to write a review as wanted to keep this place a secret but that wouldn't be fair.
If like me you research everything, check everything a million times, worry that you booking the right accomadation, flights, transfers, ski hire, lessons, lift passes and then research it all again. Well this is the place for you.
Lisa will help you with everything, point you in the right direction with who to use.
The highlight apart from the great snow and location was our hosts Dan and Bessie. So laid back but totally on it. Nothing to much trouble.
Ski hire fitted us out at the accomadation and they text us most days to see if anything needs changing. You have a 5 min transfer in morn on bus with Dan each morn when you ready and when you ready to come off the slopes just give Lisa or Dan a ring. Easy.
Great food and lots of it. Unlimited drinks, not just whilst you are eating dinner!
Highly recommended and hope to return next year" 19 Sep 18
Review posted online by Jackie
"Beautiful cozy chalet with plenty of space to relax after a hard days skiing. Lovely hosts Liza and Andy and fantastic food by the Chalet staff Charlotte and Winston - home for a rest now thank you guys!
Jan 2018" 19 Sep 18
Review posted online by Hannes
"Fabulous chalet with great atmosphere in picturesque surroundings. We loved staying with you, cozy rest after a long day in the slopes. Thank you Liza for all the help and Charlotte and Winston for your nice meals and hospitality :-)
March 2018" 19 Sep 18
Review posted online by The Guardian Travel Feature 1 Nov 2012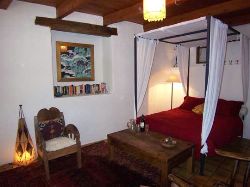 "Our chalet was featured in The Guardian as one of 10 recommended Ski Chalets:

http://www.guardian.co.uk/travel/gallery/2012/nov/01/ski-chalets-alpine-france-hotels#/?picture=398674666&index=7

10 ski chalets with the white stuff in France – in pictures
The new Go Snow collection from Sawday's features 36 Alpine chalets. Here the founder of the guides picks 10 places to stay in France to treat yourself this season

Alastair Sawday
guardian.co.uk, Thursday 1 November 2012 11.21 GMT

La Portette, Bellentre, Savoie
Up the winding mountain road to the church square and the top of the village of Montorlin, and a beautiful old farmhouse owned by Liza and Andy. The enticing family suite is reached from the street, more comfy bedrooms lie above. At the top … great cosy sofas beneath a pitched wooden roof, a long table for fabulous meals, big carved balconies for breathtaking views. In winter, two friendly ski hosts take over, life moves up a gear, every bedroom is filled and you are whisked to the télécabine in three minutes. The snowy slopes of Les Arcs and la Plagne are yours to discover.

• From £420pp per week, half-board"
10 Nov 12
Review posted online by Trip Advisor
"Read our Trip Advisor reviews from this season's guests.

http://www.tripadvisor.com/VacationRentalReview-g1938484-d1923722-La_Portette-Montchavin_Savoie_Rhone_Alpes.html#reviews


"
28 Feb 12
Review sent by email/letter by Chris McIntyre-Brown
"We had an absolutely fantastic holiday which was due in no small part to the excellent service we received from you and the team. It was brilliant to have such a personal touch with lifts/transfers, equipment and lift passes all done from the chalet – a first for me in many years of skiing. We were equally bowled over by the chalet itself which was a real chocolate box treat, a huge credit to you both!
15/3/2010" 22 Nov 11
Review written in the guestbook by Gordon, Hilary, Alan, Eleri, Mike, Jenny, Stuart, Sue & Richard
"You have provided an amazingly friendly environment for a great holiday. We are all very grateful to you for going that "extra mile" which makes us feel like guests, not customers."
08 Nov 11
La Plagne Ski Chalet - 10 out of 10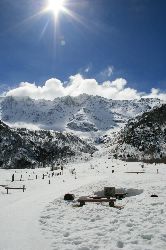 "We've stayed several times with Mountains Inc and every time just gets better than the last.

The chalet is stunning and lined with more books, dvds, music and boardgames than you (and your kids) could imagine. Like someone who was staying with us said, it is the best library you will ever drink in!

The location is incredible. The only thing better than the charming french village the chalet is located in is the amazing vista waiting to be enjoyed from the balcony.

The skiing is by far our favourite in the Alps and offers such a variety for skiers and boarders. And you can have your kit fitted at the chalet in one of the comfy sofas!!

Liza and Andy are the most welcoming hosts ever, eager to help in every way and just happy to see you and your friends having a good time.

We couldn't recommend Mountains Inc enough. High 5 to Liza and Andy, their amazing chalet and the oncoming winter

"
thomh 13 Oct 10
Ski Chalet - with charm and class!
"We've just come back from a ski holiday staying with Mountainsinc in Montorlin, just down from Montchavin/Les Coches - and had the best time!

The village is a beautiful French village, just like your imagination would conjure up.

The chalet is filled with its own charm, hundreds of books, eclectic CD Collection, very comfy sofas, plenty of wine and a tasty feast every night!

The ski-ing is brilliant for all levels - beginners to off pisters. You can get a lift to the bubble / lift and there's lockers for your kit.

Three cheers to the lovely hosts - Liza and Andy
Hip Hip Hooray



"
claytos 16 Mar 09