Chalet - can be booked by the room
Catered basis
8 bedrooms, sleeps 15
Saturday to Saturday stays
5 minutes to lift by foot
wifi
hot tub/jacuzzi
credit cards accepted
Jacuzzi, alpine views
Chalet la Vieille Scierie
La Vieille Scierie is situated right in the heart of Meribel les Allues, a charming alpine village setting. It's just 5 minutes to the ski lift, giving easy access to the slopes of Meribel, and the extensive 3 Valleys Ski Area. La Vieille Scierie is built in traditional mountain style and has eight spacious bedrooms, all en-suite.

The size and location of this residence make it a rare find, and very popular with large groups of friends, couples or several families travelling together.

A village location gives access to local amenities: ski hire, shop & boulangerie, ski school office, restaurants & bars are all right on your doorstep, making it a very practical choice for those looking to make the most of their stay.

The lounge areas and dining room have plenty of comfy sofas, an open log fire and doors out to the balconies giving pretty village views. Depending on the aspect, you can enjoy scenic views right down over the valley, or up towards the ski area.

The eight, spacious bedrooms have a nice, alpine feel, full en-suite bathrooms and balcony. The jacuzzi room provides a place for you to recuperate after a day on the slopes, before relaxing in front of the fire.

The dining room has a second sitting area to curl up and relax in, with TV and DVD player. This also works very well to provide extra space as a children's play area for families.

La Vieille Scierie is the perfect fit for large groups to enjoy a fantastic holiday in the 'hustle & bustle' of one of the world's largest ski resorts.
Accommodation:
Accommodates 15 guests
Located village centre of Meribel Les Allues
300m to ski gondola 50m to ski bus stop
8 twin bedrooms with en-suite baths
Jacuzzi
Log fire
2 lounge areas
TV, DVD and CD player
Free Wi-Fi
All rooms access balconies
Courtesy minibus service 5pm - 1am
Parking close
Ski & boot storage
Staff live out
For further information, click on the following link (will open in separate window): Winter
Facilities:
boot dryers, jacuzzi, laundry facilities, open fireplace, wifi (free public area)
Cuisine:
Breakfast: The day commences with arguably one of the best breakfasts in any of the Meribel chalets you will find in the valley. Start your day with a substantial full cooked English breakfast of sausage, bacon and eggs, fruit juice, cereals, porridge, fresh bread, jam, tea and coffee.
Afternoon tea: This will be waiting for you on your return from skiing with a variation of either, freshly baked cakes, scones & cream or homemade cookies, tea, coffee, hot chocolate, fruit cordial, French bread and preserves.
Evening meal: This comprises a delicious three course meal accompanied by complimentary wine and followed by fresh coffee.
Children's menu: Children are well catered for with freshly prepared homecooked favourites. In all our Meribel chalets early teas can be provided for young children.
Services:
Ski passes and ski lessons can all be arranged in advance of your arrival, saving that frantic rush on your first morning. Prebooked passes will be delivered to your chalet, so that you are ready to take the lift from Meribel Les Allues. If required, the ski school will visit your chalet to discuss your requirements.
Ski hire on your doorstep. A dedicated ski hire shop is conveniently located just a few metres from all of our chalets, with a discount for all our customers. British run, well stocked and with a choice of equipment you can choose from. The competitive pricing will suit all budgets.
Upon arrival at your chalet our carefully chosen staff will be there to greet you and answer any questions.
We take a great deal of care in our choice of staff in order that you may enjoy not only excellent food and an immaculate chalet, but also friendly and responsible hosts. In addition to this, Janey our local manager and Tony are resident in Meribel Les Allues to ensure that all runs smoothly.
With our small fleet of minibuses you never need to worry about access to Meribel centre. There is also a free public bus service. We offer our courtesy minibus from La Chaudanne back to Meribel Les Allues from 5.00pm to 1am, after the lifts have closed. You may want to shop in town or have a few drinks and come down at your leisure.
Resort & location information:
click +/- to maximise/minimise
Resort name: Meribel - Les Allues
Ski area: 3 Vallées
Country: France
Amenities: bars and restaurants, beauticians, biathlon courses, bowling, bus station, bus stop, canoeing, canyoning, cash withdrawal facility, childcare, cinema, climbing wall, cross country skiing, cycling, doctor, fishing, fitness centre, free shuttle bus, freelance catering, golf, gym, gym classes, hairdressers, half pipe, high altitude restaurants, hiking, horse driven sleigh rides, horse riding, huski dogs, ice rink, lake, mini golf, mountain biking, mountaineering, night sledging, nightclub, paragliding, parapenting, rafting, ski school, skidoo safaris, skiing, skiing/snowboarding, sledging pistes, snow mobiling, snowshoe walking, spa, supermarket, swimming pool (indoor), tennis, tourist office, via ferrata
Guest reviews:
Review sent by email/letter by Anita Meyers, 03 Mar 2017,
"Just a quick email to thank you and your team and singling Gareth out for an extra special thank you.
La Vieille Scierie was lovely and it was such a treat to be looked after by Gareth and Noemie, the meals where amazing and his relaxed attitude and his obvious passion for what he does came through.

Many Thanks and hope to see you again" 04 Jul 17
Review sent by email/letter by Mr D Richardson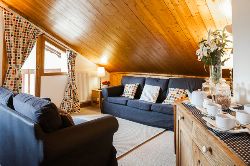 "Just to say thank you to you are your team. We all had a brilliant week.
Matt and Jen were excellent drivers, much appreciated. Our hosts cooked some brilliant meals and looked after everything else really well.
You were also fantastic helping us with everything else.

10 April 2016"
11 Jul 16
Review sent by email/letter by Mr I Traynor
"We wanted to say a huge thank you for a fabulous week. The whole process was first class. I cannot recommend you highly enough.
The food was delicious. The provision of the minibus facility is genius! We didn't think we would have a need for such a service, but my goodness we did! Such tremendous value for money. Thanks to you all for your patience.

One of our best ski holidays ever!
22 Jan 16 Chalet Vieille Scierie, Meribel" 09 Jul 16
Review sent by email/letter by Mrs Christine Hartley
"A big thank you to your and your team for another great holiday. Your choice of "fellow revellers" in the chalet was perfect, we all got on so well and had a wonderful time.

Please thank our hosts for their wonderful hospitality and especially Sammy's creations in the kitchen - delicious.
Hope you have a good rest of the season.
Best wishes
Christine
20 Mar 2015" 28 May 15
Review sent by email/letter by Mr James Spencer
"Just a quick mail to say thanks very much for a tremendous week in the chalet and everything you helped us with. Service was superb as was the food.
Thanks again and look forward to our trim next time.
Jim 20 Mar 2015" 28 May 15
Review sent by email/letter by R Burns
"On behalf of everyone I would like thank all of you at Ski Blanc for a truly magnificent week in La Vielle Scierie - but in particular we would like to thank Mark and Sarah for a really exceptional week of fine dining - they made us all so welcome and could not have gone further in making our holiday such a roaring success with their friendly, accommodating attitude and exceptional food. Thank you so much - we have been spoilt out of all recognition!

I hope you have a wonderful remainder of the season.

Best wishes
Rachel 19 Feb 2013" 20 Aug 13
Review sent by email/letter by S Castle
"I would like to thank you and your team, especially Mark and Sarah, for a great week in your Chalet, great food it was well organized and very enjoyable. Thanks also for organising such great weather!

Please could you give me a price for next February (2014), again hiring the whole Chalet, slightly different people and for us catching the snow train.

Thanks again
Steve 24 Feb 2013" 20 Aug 13
Review sent by email/letter by A Miller
""We couldn't fault the holiday with Ski Blanc and will definately book again. Everyone raved about the chalet and the chalet hosts, who really couldn't have looked after us better."
17 January 2011, Chalet Vieille Scierie" 15 Aug 11