Chalet - can be booked by the room
Catered basis
6 bedrooms, sleeps 12
Usually Saturday to Saturday stays, but flexible
10 minutes to lift by minibus
wifi
credit cards accepted
Fantastic location
Chalet One
Chalet One is a first-class, catered ski chalet in Sainte-Foy, that combines luxury accommodation with five star service for up to twelve adults. Independently run by Andy Agar & his team, we do our utmost to make your ski trip a memorable one.
Sainte-Foy –
A 'must-do' destination…
Chalet One at a glance
Luxury, fully catered ski chalet that offers five star service
Flexible accommodation can be taken on a room-by-room basis or can be booked for your exclusive use
Six beautiful, well appointed and spacious bedrooms, five with en suite bathrooms & all with limitless hot water
Complimentary bathrobes
Quality REN toiletries
A lovely old french woodburner in our 500 + year old living room
Sumptuous sofas
Great wines
Exceptional three course dining on six evenings
Hearty breakfasts
Afternoon tea with home-made cakes
Child friendly
Complimentary chocs, water & tissues for your day on the slopes
Free ski bus stops right outside
Morning & afternoon shuttle service in our chauffeur driven chalet bus
And much much more…
Accommodation:
Chalet One offers particularly spacious, comfortable and homely accommodation for up to twelve adults in six double/twin bedrooms (five en-suite and one with a private shower room). All the bedrooms are entirely individual in character – towels, bathrobes, hair dryers and toiletries are all provided.
Children are more than welcome.
The living accommodation consists of comfortable lounge with a wood burner in the interior of the original 500 year old wood chalet, around which the stone walls of the chalet were constructed in 1668! There is a kitchen/breakfast room and a separate dining room for evening meals.
There is a TV room with a 55" TV and soundbar, with UK TV and a DVD library. Wireless internet connection is available throughout.
There is a large free parking area next to the chalet.
Please note that we do operate a no smoking / no pets policy within the chalet.
Facilities:
boot dryers, cot/highchair, home cinema, satellite/cable TV, ski workbench, wifi (free in-room), wood burning stove
Cuisine:
Your stay at Chalet One starts with a delicious daily breakfast (cooked or continental) and afternoon tea with freshly baked cake.
A champagne reception for your first evening.Three course evening meals are served on six out of the seven nights of a week's stay, with complimentary wines to accompany your meal. After dinner coffee is then served in front of the log fire.
Resort & location information:
click +/- to maximise/minimise
Resort name: Sainte Foy - La Masure
Ski area: Sainte Foy
Country: France
Amenities: bars and restaurants, beauticians, cash withdrawal facility, childcare, doctor, free shuttle bus, gym classes, huski dogs, massage, off piste guiding, parapenting, pilates classes, ski school, skiing, skiing/snowboarding, sledging pistes, snowboard school, snowshoe walking, spa, supermarket, swimming pool (indoor), torch lit descents, tourist office, via ferrata
tel:

UK - 0044 (0)789 911855
Advertiser with
Chalets Direct
since: December 2010
Guest reviews:
Review sent by email/letter by Lucile
"Hello from Canada!
We had such a wonderful time this past week - food, snow, atmosphere, comfort... all there in spades! One of our best ever ski holidays!
Andrew: Chalet One is one of the most beautiful houses we have ever stayed in, and so very cosy. We feel so lucky to have been able to enjoy the whole Sainte-Foy experience


And Will - nothing on our plate will ever taste as good, honestly the best food we've ever had.
Lucile, Roger & Sonia
Ottawa, Canada
Via email February 2017."
15 Feb 17
Review posted online by An actress
"Hey Andy,
I had a brilliant week. What a great place - I loved the chalet, I loved the deserted slopes, and I loved Hannah & Will. I've never eaten so well in my life!
Thank you so much. I'll be back, without question.
Via email from the client who stayed 22 Feb to 27 Feb 2016."
27 Apr 16
Review posted online by Alison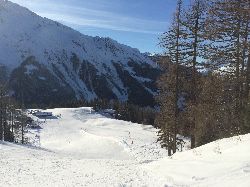 "Hi Andy,
Thank you for the most wonderful stay in your chalet. It has been restored beautifully and encompasses the best of Alpine character, that with the combination of Will's amazing cooking and the welcome and wonderful service from both Will and Hannah - made this our family holiday par excellence. I could not fault the beautiful accommodation, and the menu was balanced beautifully across the week, and we all loved the food. Everything was thought of including snacks for ski school!! Brilliant.
Alison & family week 06 February 2016 via Tripadvisor."
27 Apr 16
Review posted online by Kate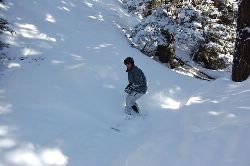 "We stayed here with a group of friends over New Year and it was fantastic! The chalet is beautiful (the photos don't do it justice) and impeccably clean. The staff were amazing and looked after us so well, and the food was incredible. I had my 11 week old with me, and my friends had their 20 month old and we definitely felt that the location and set up of the chalet was great for families. We were unlucky with the snow but none of us wanted to leave. Very much missing Will's amazing three course dinners and being waited on every night!!
We will be going back for sure.
Kate, full chalet group New Year 2016 Tripadvisor review."
27 Apr 16
Review posted online by Charlotte
"An Incredible week with the Chalet One team. If you're looking for a luxury experience with fantastic food, that will take you round the globe and access to not just Ste Foy but La Rosiere and Tignes/Val d'Isere then look no further. Thanks Chalet One, we will be back!
Charlotte, full chalet group New Year 2016. Facebook review" 27 Apr 16
Review written in the guestbook by Mark, Debbie, Alexa & Sebastian.
"Absolutley fantastic week in Sainte - Foy and Chalet One, great food, lovely chalet, sunshine (a bit) and snow!
Thanks a million guys.
April 2015" 16 Jul 15
Review written in the guestbook by Phil & Mandy
"A perfect skiing holiday in a charming chalet oozing alpine charm. Excellent hosts who thought of every detail - amazing food, wine, atmosphere and attentiveness.
A huge thanks to Will, Hannah, Immy and Louis (who even served breakfast dressed as a Zebra) We hope to be back soon xx.
March 2015" 16 Jul 15
Review posted online by A february guest
"We traveled with our 2 year old to chalet one at la masure st foy for the first week of February 2015.... Wow what a fantastic holiday we had.

)))
The chalet was one of the most beautiful I have stayed in, so much character ,while having all the creature comforts you need. The chalet is ,as stated before, quite rural which i believe adds to its charm. The practicalities of getting to ski are taken care of by the amazing hosts dropping you off at the ski station of your choice.
However if you are skiing the saint foy region and didnt use the drop off service there is a 'limited' free bus that runs right outside the chalet at, 9ish, lunchtime and late afternoon for when you finish skiing for the day


I can't express in words how good this accommodation is , and more than that i can't express how much the hosts Will, Hannah and immy, made our holiday a truly memorable experience, with Will's Michelin star cooking and the exceptional service hannah and immy provided for myself , husband and little girl added to the whole experience.
My only hesitation in writing this review is I would like to keep it all to myself

))
I am looking forward to next year already ;()"
16 Jul 15
Review posted online by Nick H
"From Tripadvisor:
BRILLIANT CHALET
just had a brilliant stay at Chalet One, looked after by Will,Hannah and Imogen,
booked the whole chalet with friends, it was so comfortable and friendly it was like being at home.
the food was excellent and varied and included roasted cod loins, lamb and guinea fowl, all expertly cooked and well presented with matched wines.
The bedrooms are individually decorated with original farm house features, warm with modern shower and bathrooms.
This is not a ski in/out location - but it's quiet rural location suited us as we did not want to ski at Sainte Foy each day- the hosts transported us to different resorts every day, La Rosiere so we could ski across to Italy, then Val D'Isere and then Les Arcs.
Our group had mixed abilities which suited Sainte Foy and Les Rosiere and the snow conditions were excellent.
Just back to work today in Plymouth and wished we had booked for two weeks
next year !
Nick H January 2015" 16 Jul 15
Review posted online by Melanie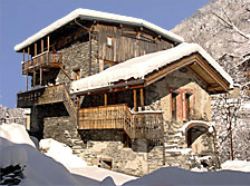 "Wow!

Beautiful chalet in a lovely location. We were thoroughly spoiled by our hosts Kris and Liv who did an amazing job. Hospitality and cuisine were first class, transportation to and from the slopes made our week so easy. Bedrooms were clean and so comfortable in every way.

A fabulous week in a stunning chalet. Thank you Chalet One.

Melanie & her half term party February 2014"
06 Mar 14
Review sent by email/letter by Leslie
"Hi Andy

I was with the party booked by Jill last week. Just to let you know that we were well looked after by Kris & Olivia they were so natrual & helpful, & Olivia's cooking was fantastic & I'm fussy. Looking at your web site you mention Val, Italy but don't say how good a location Chalet One is for Les Arcs, Tignes & La Rosiere (to ski into Italy) as this is a big plus & gives brilliant skiing opportunities.

We will reccomend Chalet One at any oportunity.

Best regards Leslie February 2014"
06 Mar 14
Review sent by email/letter by Martin & Emma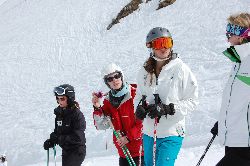 "Hi Andy

Just thought I would drop you a line and say what a fantastic stay we had at Chalet One, Chris and Liv were brilliant hosts, couldn't have done more to make our holiday a thoroughly enjoyable experience. please pass on our heartfelt thanks.

Chalet One has to be one of the nicest and most comfortable chalets I have stayed in over the past 30 years, you have thought of everything, even down to the chocolate basket by the front door, which helps you through the morning, I thought I would miss ski in / ski out, but with the mini bus, and the quietness of St Foy, it didn't matter at all.

Many thanks Andy, looking forward to next year!

Martin and Emma February 2014"
06 Mar 14
Review sent by email/letter by Clare and Rob
"Dear Andy

We are on our way home in the not inconsiderable traffic (!) after a super week at your beautiful property.

We enjoyed some great skiing and beautiful weather with clear blue skies most days.

We wanted to let you know how well we were looked after by Olivia and Kris. They were truly wonderful hosts keeping the chalet spotlessly clean and serving up some exquisite meals the quality of which was on par with some of the best restaurants we have visited.

Thanks once again and funds permitting and it being free we hope to visit Chalet One again next Christmas!
Kind regards,

Clare and Rob New Year 2014" 27 Jan 14
Review sent by email/letter by Neil and Clare
"Dear Andy,

I hope you don't mind me emailing you - we are part of the party who stayed at Chalet One for the New Year week.

We would like to let you know how fantastic Liv and Kris were - the food was outstanding, their hospitality faultless. They were always one step ahead of knowing what we might need or want.

The chalet itself was beautiful and spotlessly presented.

The facilities were brilliant - even just the simple fact of endless hot water from our wonderful shower made a big difference.

All the little touches - bottles of water, chocolate to take up the slopes, the REN complimentary toiletries - added to our very enjoyable stay.

Liv and Kris work so well together and we were thoroughly spoilt every day from breakfast right through to afternoon tea and dinner.

We would like to congratulate you on employing such wonderful and friendly individuals.
Yours sincerely,

Neil, Claire and Hope. New Year 2014" 27 Jan 14
Review sent by email/letter by Chris and Sue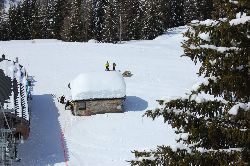 "Dear Andy,

We would like to pass on to you how much we enjoyed our stay at Chalet One this last week and in particular how well Marc and Roby represented you. They both worked tirelessly to make our stay a relaxed and enjoyable experience.
Additionally Sue and I want to let you know how superbly Roby cooked for us all, he produced truly fantastic meals, he's a very talented Chef.

Please pass on our thanks to them both.

March 2013"
01 Dec 13
Review written in the guestbook by Rob and Tracey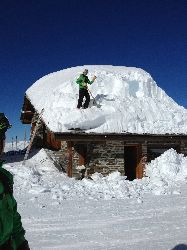 "Dear Andy,

We stayed at Chalet One last week (group of 7 booked in Tracy's name) and would just like to say on behalf of our group we had a wonderful time. Marc and Roby were excellent hosts in every respect and the food was absolutely fantastic. We really liked the chalet and thought it was of a very high quality. Thanks for helping make our week so special.


March 2013"
01 Dec 13
Review written in the guestbook by James from London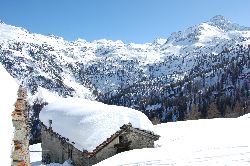 "Mark and Roby were just great - there was nothing that was too much trouble. Roby's cooking was really terrific; he should open a restaurant!
All in all one of the best week's skiing ever - it was seriously cold which meant the snow was as good as I've ever known (including Canada!). On Col Grenier it was thigh deep at the far end - unbelieveable. We also found the way down to the village of Le Monal - the top lift had been closed since the last snowfall and there was just one other set of tracks! Sunny, perfect powder, beautiful views and all on our own - it just doesn't get any better.

Chalet One was a good as ever - what a great place you have. Terence and Richard were suitably impressed by both the chalet and the skiing and will definitely be back. A week at St Foy at low season is going to become an annual thing I reckon'.

January 2013"
01 Dec 13
Review sent by email/letter by Kevin & Bunny
""Hi Andy
We had a fantastic time. The chalet is beautiful, James & Georgie were perfect hosts and really made us feel at home rather than a bunch of guests. The food was brill, Georgie really is a very good cook. Kev was in seventh heaven with the afternoon cakes. The wine was great – it was really nice to taste the local wines which were delicious.
I have to say that I have fallen in love with Sainte Foy, I would have been quite happy there all week, no queues, deserted pistes and a brilliant mountain restaurant charging reasonable prices.
We will definitely be booking again, but sadly not until next year!!""
17 Sep 12
Review sent by email/letter by Jeni & James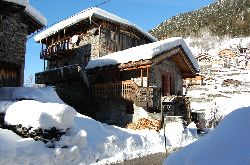 ""Hi Andy,
We had the very best time. Chalet One is bursting with character, so cosy and comfortable. It was all such a treat. Lovely wines too, felt thoroughly spoiled. What a great place it is, and it all ran like clockwork, all so comfortable, buckets of hot water, roaring fire in the evening. A really great week, it ticked all the boxes for all of us.
It was so good, and hopefully we will be back for more…. James and Tom were toying with the idea of sneaking out for a bit of powder if there is a window in the bookings and the snow is right – but for the moment, it is back to reality….""
17 Sep 12
Review written in the guestbook by Oliver & Claudia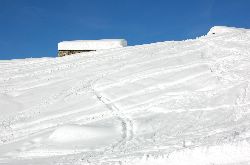 ""…For it's relaxed atmosphere and après ski, we found Sainte Foy to be one of the finest resorts that France has to offer; combined with the great food, excellent wines and welcoming atmosphere, you can't fail to fall in love with the infinitely charming and cosy Chalet One; it was one of the best holidays we have ever had. The only problem was, at the end of the week, we just didn't want to leave.""
17 Sep 12