Chalet for sole occupancy
Self Catered or Catered basis
6 bedrooms, sleeps 12/14
Saturday to Saturday stays
6 minutes to lift by foot
parking
hot tub/jacuzzi
credit cards accepted
Wonderful wellness area
Chalet Appaloosa
Powder White's Flagship Property
Chalet Appalossa is a newbuild chalet and promises to offer superb accommodation for up to 12 people.
Fantastic top floor living area makes a great gathering point for wine and post skiing converstaion.
Set in a peaceful position and beautiful surroundings, it has 6 rooms (5 of them suites) all with ensuite facilities and plenty of space.
Chalet Appaloosa is well positioned, straight-forward access to the main ski lifts and Bellevarde/Solaise and the high street with its many shops, bars and restaurants is an easy stroll away.
Solaise/Bellevarde lifts approx 6 minute walk. High Street approx 3 minutes walk.
Accommodation:
The Accommodation comprises:
Bedroom One: Twin suite with ensuite bath, loo + private balcony
Bedroom Two: Twin suite with ensuite bath, loo + access to terrace
Bedroom Three: Double with ensuite shower, loo + access to balcony
Bedroom Four: Twin suite with ensuite bath, loo + private balcony
Bedroom Five: Twin suite with ensuite bath, loo + private balcony
Bedroom Six: Double suite with ensuite bath, loo + private balcony
Additional: 1 separate loo
Floor area: Approx 320 m2
Facilities include:
Wellness Centre with Jacuzzi
Log Fire
Internet Access
Lift access to lower 3 floors
TV/DVD with film library
iPod docking station
Bath & hand towel per person (changed mid-week) with complimentary bathroom accessories
Hairdryer
Covered parking for 2 cars
Facilities:
cot/highchair, hot tub (indoor), iPod docking station, open fireplace, private parking (covered)
Cuisine:
Fully catered:

First Evening Champagne & Canapes
Cooked & Continental Breakfasts - croissant, bacon, egg, tomato, mushroom, yoghurts, cereals, porridge, fresh fruit, breads & jams (served 6 days of the week, simple continental left for 7th day)
Afternoon Tea including tea, coffee, hot chocolate, cake, breads & jams (7 days)
Pre-Dinner Canapes & Wine (6 days of the week)
3-course Evening Meal with 3 types of red and white wine, Cheese & Fresh Coffee/Chocolates (6 days)



Sample menu:

Tomato, Mozzarella & Avocado Salad

Roast Leg of Lamb with Rosemary & Garlic
Roast Potatoes, Honey-glazed carrots
& Mange Tout
Vegetarian: Vegetable Dauphinoise

Apple, Blackberry & Walnut Crumble

Cheese Course

Fresh Coffee & Chocolates



Self-catered

You will be welcomed by our chalet staff and they will be on hand to help you with anything during your stay.
On six days of the week, they will come in to clean the communal areas and bathrooms (not washing up).
If you wish, you can pre-book meals on an ad-hoc basis which will be prepared and served in your chalet.
This is often a popular choice on guests' first and last evenings and 3-course evening meals with wine are available at £35 per person per night.
Services:
At Powder White operate a unique and flexible formula to fit in with your holiday that includes:
A fully-catered, part-catered or self-catered basis.
Each property will be exclusively managed by individually trained chalet managers (one for 6/8 guests, 2 for 8-12) who will deal with your every need throughout your stay.
We can arrange private transfers, ski tuition & passes or book tables in local restaurants on your behalf.
Also there will be no reps giving you the hard sell and whilst our staff will be well-rewarded through one of the most generous packages in skiing, they will not be judged by any in resort events sales.
Resort & location information:
click +/- to maximise/minimise
Resort name: Val d'Isère
Ski area: Espace Killy
Country: France
Amenities: bars and restaurants, beauticians, bus station, cash withdrawal facility, childcare, cinema, climbing wall, cross country skiing, devil carts, doctor, dog sled rides, fitness centre, free shuttle bus, freelance catering, glacier skiing, gym, gym classes, hairdressers, half pipe, heliskiing, high altitude restaurants, hiking, huski dogs, ice climbing wall, ice diving, ice driving, ice fall climbing, ice kart racing, ice rink, lake, massage, mountain biking, night skiing, nightclub, off piste guiding, paragliding, parapenting, pilates classes, ski school, ski touring, skidoo safaris, skiing, skiing/snowboarding, sledging pistes, snowboard school, snowshoe walking, spa, supermarket, swimming pool (indoor), swimming pool (outdoor), toboganning, torch lit descents, tourist office, via ferrata
Guest reviews:
Val d'Isere Chalet Review
"My family stayed in the chalet Appaloosa in Val d'Isere and were very impressed with this property. There were 6 spacious bedrooms all with ensuites which was convenient, an open plan living room but most of all the fireplace and balcony with views of the valley was our favourite thing about this chalet. It was set just far enough from the bustle of other chalets & shops yet just a few minutes from the village centre and lifts. Thanks to the chalet hosts who looked after us very well and tried hard every day. If I had one criticism its that we were expecting a traditional chalet but this one was slightly more modern with a contemporary feel, so maybe next year we will book again around Christmas but try a more traditional style chalet."
ski-noob 31 Mar 12
Chalet in Val d'isere
"Booked the Chalet Appaloosa with Powder White Ski Chalets in January. At first there was a little admin mistake but that got taken care of and we ended up having a great skiing holiday in Val d'isere. It was the first time I went skiing and had no idea on what to prepare for but the staff at Powder White were very helpful. One of the reasons I booked with them was because of the little things they could help with which included ski hire, lift pass hire and even arranged childcare for the kids. We hired a catered chalet, the food was average although that could be because I am picky but the staff were helpful and had everything ready on time. The chalet girls did tend to disappear between meals though. I would like to thank Nick at Powder White who made sure we did not miss the shuttle bus and looked after us even after we arrived back. All in all the ski holiday was a success which would not have been possible without the help of the staff. The resort was very nice and the chalet Appaloosa was located in the right place which was near to shops and the lift pass. Thanks again and hope to book for the 2012 Ski Holiday season."
ski-chalet 19 Apr 11
Chalet Appaloosa
"Flew back in on Saturday, all I can say is what a fantastic chalet this is. Well finished, good interior design, lovely new 'floating' wall log fire, comfy lounge, boutique style bedrooms, lovely spa area.

The hosts jo and Chis were fantastic, top rate food and service, by far the best chalet I have stayed in and I would not hesitate to reccomend it to any of my friends.

Thanks for such a great stay!
Dan" dg79 19 Feb 10
Unbeatable Chalet Accomodation!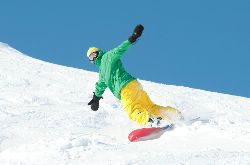 "The moment you walk into this chalet you feel like a VIP! The interior design of the chalet is stunning from the faux cow hide walls to the condiment designed lampshade in the Kitchen.The chalet has the feel of a stylish boutique hotel fused with the comforts and luxuries of your own home. The attention to detail is amazing in all areas, the lounge has a stunning modern log burning fire and a modern widescreen TV and DVD player with comfortable sofas. The ground floor has a brand new hot tub and steam room.

If the decor and design are what make the impact when you enter it is the staff that make the stay one to remember! Cheerful,Friendly and helpful chalet hosts Jo and Chris serve up a superb breakfast with a great variety of options to fuel you for a great day on the slopes, you return from your day on the mountains to hot drinks and freshly baked cakes, then after a stint in the hot tub to relax tired muscles you have Canapes and wine. All this is before the superb three course meal fit for a king! Powder White's resort manager, Alex, is always available to assist with enquiries and assisted us with our transfer when another company let us down.

The chalet is brand new and the pride and joy of it's owner who has done everything to ensure all a guests needs are catered for.

Jo, Chris, Alex and Andy thank you for a superb holiday!"
tig357 14 Feb 10